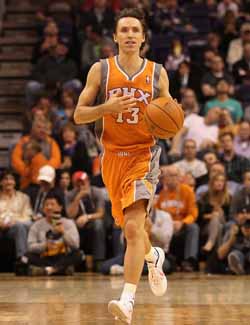 Nash hasn't and won't request a trade from the Suns.
(Getty Images)
Posted by Royce Young
By every account, whether it's NBA insiders, the Suns or
Steve Nash
himself, the ageless Phoenix point guard isn't getting traded.
Question is, why? He's 38 years old, the Suns aren't going anywhere in the near future and you'd think Nash would want a shot at chasing a title somewhere.
Here's a surprising reason via ESPN.com
-- because the Suns would actually like to
re-sign
Nash.
Because Suns owner Robert Sarver, according to sources close to the situation, continues to hold out hope that he can convince Nash to re-sign this summer for at least two seasons.

[...]

Sarver, though, is apparently determined to try to convince Nash to retire in the desert. The thinking there, sources say, is that the Suns believe they'd have a better core going forward with a re-upped Nash, center Marcin Gortat, cap space and a top pick in the well-regarded 2012 draft than with the sort of assets they could bring back now in a deadline deal for a 38-year-old point guard who, even as he continues to play at an All-Star level, is just a few months away from free agency.
The second question is, why would Nash re-sign with the Suns though? Loyalty is one thing, but unless something drastic changes within that organization, the Suns aren't going to be resurfacing as a Western contender soon. Nash would be an unrestricted free agent this summer and with teams like the
Knicks
and probably
Mavericks
ready to come calling, two teams with contending capabilities, it would make sense that Nash leave Phoenix.
But just because the Suns would like to re-sign Nash doesn't mean it won't eventually make sense to deal him. His value is certainly as high as it'll ever be right now and there would likely be a few teams ready to step up. One being the Portland
Trail Blazers
who according to the report "has been interested in Nash for a while."
The Suns reportedly aren't getting big-time offers for Nash though, presumably because of his advanced age. Still, you can't deny his production which has been at an incredibly efficient level. Nash is too much of a class act to demand a trade, but you know he doesn't want to spend the twilight of his career plodding along on a mediocre team. He wants to chase a title. It might just a matter of who that will be with.