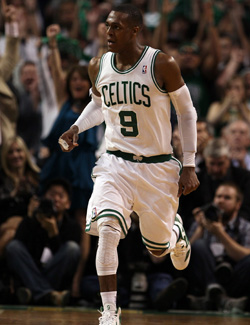 Is Boston trying to move Rondo? Wait, we've heard that story before.
(Getty Images)
Posted by Royce Young
The Boston Big Four could be on the brink of breaking up. (Alliteration!)
There's been a lot of talk of Danny Ainge making some sort of move with one, two or maybe even all of Boston's four core pieces before the trade deadline. The one with the most trade value would likely be 26-year-old point guard
Rajon Rondo
and the
Celtics
are shopping him around,
according to ESPN Boston
:
The Celtics find Rondo's personality to be too high-maintenance and his clashes with coach Doc Rivers remain an off-court distraction, sources told Broussard, and the front office is now actively pitching him to other teams. With the Celtics realizing they are no longer title contenders, they don't believe his point guard prowess is worth the headaches Rondo brings, sources say. And they do not want to build around him.

In December, the Celtics had discussions with Golden State about a Stephen Curry-for-Rondo deal, and one source says it was Golden State that decided against pulling the trigger. But Curry's recent ankle injuries, which have caused him several problems in his short career, have given the Celtics pause.

The potential trade is still being discussed by Boston's braintrust, but they aren't sure they want to go forward with it. It also isn't clear whether the Warriors would be willing to do it. Other players would have to be thrown in to make it work financially.
There was talk earlier in the season that the Celtics were pursuing a deal for
Chris Paul
involving Rondo, and another deal
that would send Rondo to Indiana
. So there's certainly some fire to all this smoke. Ainge is absolutely making phone calls involving his young point guard.
Whether they're just trying to move on, or they want to wash their hands of the headaches Rondo brings, Boston is actively looking to deal. Doesn't mean something is imminent, but it means that March 15 could be an interesting day for the Celtics.
Ainge tried to cover himself for shopping Rondo around earlier in the year saying in January there's a difference in trying to trade a player and trying to acquire one.
"I was not trying to trade Rajon Rondo," Ainge said. "There's a big difference between trying to acquire a player and trying to trade a player."
Potato, potahto.
Rondo is averaging a career-high 14.1 points per game to go along with 9.6 assists and 1.6 steals. It's not his best season in terms of overall production, but he's still an extremely productive All-Star point guard. And someone with a lot of value. If Rondo is indeed dealt, it would signal a change of process for the Celtics. They'd likely be going from a team looking to contend now, to a team looking at transitioning into a new era.
That roster has been built largely on great talent, but also a strong bond in chemistry. The
Kendrick Perkins
trade tested that, and the Celtics failed. Dealing Rondo would signal that it's a full on shakeup in Beantown.