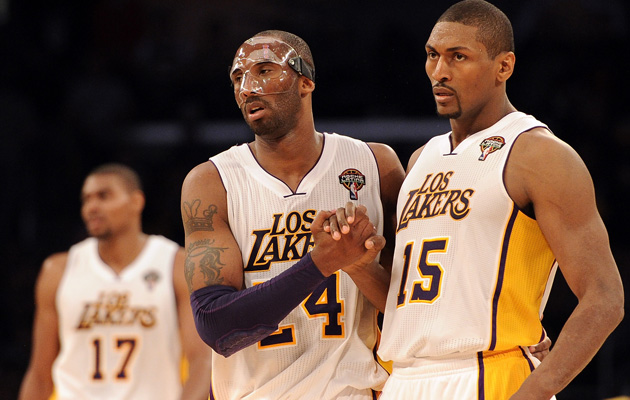 Kobe Bryant and the Lakers are playing their best ball of the season
(Getty Images)

By Matt Moore
The Baseline Awards celebrate the week that was and give you a track of where the awards are at throughout the NBA season. Some are serious, some are not, but all took way longer than necessary to compile.
Eastern Conference Player of the Week: Rajon Rondo
Three guys have had a triple-double like the one Rajon Rondo had Sunday against the
Knicks
. Wilt Chamberlain, Oscar Robertson, and Rondo. That's the list. Rondo's 18-point, 17-rebound, 20-assist 3D is the stuff of legend. It's enough for him to win outright this week. We're a league absolutely obsessed with the pull-up mid-range jumpshot. We make a big deal about dunks, and we talk a big game about team defense, but really, what we care about is rising up and hitting a mid-range jumper with a hand in the face. That's what Jordan did, and many of us are colored one way or another by the Jordan era. What Rondo does is so phenomenally different in its style than anyone else's approach, it almost makes Sunday's game more impressive.
The
Celtics
need so much every night and Rondo continues to provide it. He wasn't even offensively efficient on Sunday. But he creates so much action on a per-minute basis that you're left wondering if he's the entire Celtics team, in reality. These trade rumors are nonsense, barring an unbelievable offer. Rondo's one of the best in the game.

Western Conference Player of the Week: Kobe Bryant
There's a perception that those that look at advanced metrics and efficiency "have it out" for Kobe Bryant. Or "are haterzzzz" or whatever. But as a guy who's a big fan of analytics and efficiency, I'm telling you right now, Kobe Bryant is playing his best ball of the season. Yes, better than the 40-point stretch. He's working in the flow of the offense, finding good shots, hitting them at a great clip, getting to the line, everything. He's been simply brilliant. He's creating for his teammates, he's playing better than usual defense (and his defense is usually above-average). These are the stretches for Bryant where you understand the constant calls for him as the best player in the world. That those are usually based on inconsistent and flawed data regarding "ringz" and "clutch" are irrelevant. The Black Mamba is striking everything right now.

The Puzzling Enigma Award: Strangest week from player or team
Phoenix
Suns
How have they won three in a row? How? How is this possible? Schedule advantages aside, they knocked off a near-playoff team in Minnesota, a playoff team in the
Clippers
, and a feisty
Kings
team. All at home, sure. But that's three games in a row and they're within spitting distance of .500 and throwing distance of the 8th seed.
Steve Nash
is still doing this at his age. It's incredible. I have zero understanding of how they are even out of the basement.

The Horde Award: Team you should fear
Los Angeles Lakers
There are a lot of teams on impressive runs right now. But the Lakers are playing their best ball of the season. They're just tearing through teams right now. Sunday's win over the
Heat
was a statement game. The fact remains that if this team gets home court advantage they're going to be a killer out in the playoffs. With their size and wing defenders starting to play well, their only real deficit is at point guard and they're getting by. They're not the invincible Lakers of years past, but they're exceptionally good.

Cub Scout Troop Award: Team you should not fear
Portland
Trail Blazers
It's a train wreck. The players are divided in the locker room by all accounts, there's rampant talk of Nate McMillan getting fired, and they're losing games along with the soul of their team. There isn't a more mentally weak opponent right now

Searching For Bobby Fischer Award for Stratagem:
Tom Thibodeau's late-game adjustments to San Antonio. Thibodeau recognized the damage perimeter penetration was creating and packed the lane against the
Spurs
, daring them to beat them on rushed shots from the outside against a super-long lineup. It worked,
Tony Parker
was stymied, and the
Bulls
got a big win over the Spurs.

Awkward Water Cooler Conversation Award for Coaching Struggle:
Doug Collins late-game scoring options
The Sixers need to seize on the wonderful season
Andre Iguodala
is having and put the ball in his hands late in games. He doesn't have to shoot it all the time, but
Lou Williams
is trying to go NBA Jam every time and opponents know it. They need to be able to close and even if Iguodala isn't a superstar he can play one for thirty seconds. Against the Bulls and
Thunder
the Sixers blew opportunities to get their daggers in by squandering possessions. Rare criticism for the presumptive Coach of the Year.
Blog of the Week: SilverScreenAndRoll.com
The Lakers have a pretty nutso fanbase, I'm going to be honest. All fans are nuts. Lakers fans think they can trade
Luke Walton
for
Chris Paul
and
Matt Barnes
for Andre Iguodala. To be fair, they've been on the receiving end of some of the most lopsided trades in history. But they take it far. Which is why it's great SilverScreenAndRoll.com exists. It's a site that clearly shows the Laker side of history but gives hones and open criticism, has a sense of humor about itself, and doens't stray into too much cheerleading or moping. It gives great insight into multiple ways to approach the game and should be essential reading for you.

MVP rankings:

1.
LeBron James
: Yup, even still. Sorry, I'm not going to throw out being the most dominant force on the planet for 45 minutes because he passes to an open man in the 48th. His legacy is compromised, his MVP resume is not.
2.
Kevin Durant
: Started chucking a bit against Atlanta, and falls back to the pack a bit. If James falls out because of the clutch nonsense or because they rest him, it's going to be a fight down the stretch between Durant and the two behind him.
3.
Derrick Rose
: Oh, hey Derrick. Good to see you back. What's that, you want to destroy all of us in a fire of impossible floaters? OK.
4. Kobe Bryant: If he does what he does and doesn't need as many bad shots to do it, this is the best pound-for-pound offensive player on the planet Earth.
5. Chris Paul: Hard to get the kind of assist numbers he should have when none of is guys can hit a shot right now.
6. Tony Parker: I'm one of the few who believes there's a big gap between Parker and the top five based on his perimeter defense. Parker ballhawks but too often is caught out of position. Which would be a problem if he hadn't been insanely brilliant this year.
7. Andre Iguodala: If I'm willing to say he's the DPOY (and I am), he should get a shot here.
(Honestly, this completes the list at this point.)

ROY Rankings:
1.
Kyrie Irving
: That
Anderson Varejao
injury may have cost us the chance to see Irving put the Fear of God in someone in the first round of the playoffs, Rose '09 style.
2.
Ricky Rubio
: If Rubio bounced a pass off his nose like a seal for an assist, would you be surprised? Me either.
3.
Isaiah Thomas
: Mr. Irrelvant is doing some special things in Sacramento, if you can bear to watch.
4.
Kemba Walker
: I was impressed with Walker's control during the
Nets
game, improving more than I thought he would.
5.
MarShon Brooks
: The re-emergence of
Brook Lopez
is giving him some issues in terms of flow. Just 20 points total in his last three games.
DPOY Rankings
1. Andre Iguodala: Night and night out the most versatile defender in the NBA.
2.
Luol Deng
: When Deng sticks you it's like getting snuggied by an anaconda.
3.
Dwight Howard
: He's so good his effort level is way down this season and he's still third.
4. LeBron James: Same deal as Howard.
5.
Tony Allen
: Dwane Casey called him "a pitbull."
Here was his response
.