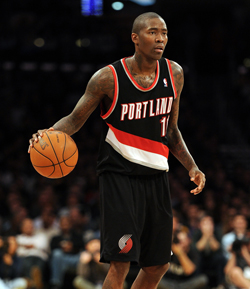 Jamal Crawford could be headed out of Portland just months after he arrived.
(Getty Images)
Posted by
Ben Golliver
The Portland
Trail Blazers
signed guard Jamal Crawford in December and, by NBA rules, he became trade eligible on March 1. Less than 72 hours later, the rumor mill was already swirling with talk that he could be headed out of town.
SI.com reports
that Crawford is "available."
With the Blazers (18-18) underachieving and the 12-year veteran having struggled to fit in this season, sources say he's available. Crawford signed a two-year, $10 million deal on Dec. 15, but the second season is a player option and he plans to opt out this summer to retest the free agent market.

While it's not known whether the Clippers and Blazers have discussed a deal involving Crawford, a source close to him said they showed significant interest when he was a free agent but lacked the flexibility to get a deal done.
CSNNW.com reported
that both the Los Angeles Clippers and Minnesota
Timberwolves
are "very interested" in Crawford's services, while
HoopsWorld.com added three other teams
to that list.
The Los Angeles Clippers and Minnesota Timberwolves are pursuing him the strongest, but the Sacramento Kings, Toronto Raptors and Milwaukee Bucks have also expressed interest.
Crawford signed with the Blazers because of regional ties, a solid financial offer (a 2-year, $10 million deal with a player option), a chance to make a playoff push and the opportunity to play the clearly defined reserve scoring role in the absence of Brandon Roy, who was waived using the amnesty clause due to knee injuries.
But Portland's season hasn't played out to those expectations. At 18-19 entering Monday night action, the Blazers currently stand as one of the NBA's biggest letdowns. As recently as January, they touted themselves as contenders for the Western Conference title but currently sit outside the West's playoff picture with a daunting 7-game road trip beginning later this week.
With fellow guards
Raymond Felton
and
Wesley Matthews
struggling and lineups juggling as a result, Crawford has seen his minutes and shots vacillate, and he's also been asked to step into the starting point guard position, a role that clearly doesn't suit his well-established skillset. Given how poorly Felton has played, Blazers coach Nate McMillan likely felt like he had no choice to make the move, but Portland has lost three straight with Crawford as a starter and the team now plans to move Felton back into the starting lineup on Monday,
according to The Oregonian
. It's as messy as it sounds for all involved.
It get worse for Crawford, in particular, because McMillan has also moved forward
Nicolas Batum
into the starting 2-guard role, meaning that Crawford must compete with Batum and previous starter Wesley Matthews for minutes and touches there or continue to take on point guard duties in the reserve unit. Promising second-year two guard
Elliot Williams
is showing flashes that he deserves regular minutes in the rotation, too. On Portland's roster, this qualifies as a glut. Crawford made a lot of sense for a veteran team pushing for playoff success. On a middling team spinning its wheels with decisions to make at his position, he's extraneous.
Clearly, something has to give. One way to fix the situation is to move forward
Gerald Wallace
, returning Batum to his natural three and restoring minutes for Crawford. Another, obviously, would be to ship out Crawford, whose contract and production make him one of Portland's best trade assets. With Matthews on a long-term deal, Williams starting to emerge and Batum figuring to command big dollars this summer, selling early on Crawford makes more sense than letting him walk in three months for nothing.
The Blazers and Timberwolves have been regular trade partners over the years, and a trade centered around a swap of Crawford for guard
Luke Ridnour
makes almost too much sense. Minnesota has a surplus of ones and a need for a solid two; Portland has a surplus of twos and a desperate need for a solid one.
Ridnour, a point guard by nature, has played out of position off the ball as rookie sensation
Ricky Rubio
has taken the Timberwolves by storm. Ridnour, 31, is on the books through 2013-2014, long after he will be useful for the Timberwolves. As of Monday, he represents a minor upgrade over Felton in terms of PER (he's ranked No. 41 in the league, Felton is No. 50). Portland has been looking for 3-point shooting from the point guard position to complement franchise forward
LaMarcus Aldridge
, and while Ridnour is shooting just 32.3 percent from deep this season, he's a career 35.9 percent shooter. Felton, meanwhile, is shooting just 24.6 percent from deep and averaging a full turnover more per game than Ridnour, in similar minutes.
Ridnour is a known commodity for Blazers coach Nate McMillan from their shared time in Seattle and could represent a low-risk transition from what has been a tumultuous time between Felton and McMillan in Portland. Felton is also set to be a free agent this summer and, if he's not moved by the deadline, would seem to have a murky (at best) future in Portland. Ridnour, then, would serve as a low-cost, reliable placeholder.
For Minnesota, Crawford plugs in at the team's weakest position, bringing his scoring and shot-creating ability to a team that can use it as it tries to make its first playoff push in years. He wouldn't be asked to carry the load or handle the ball all that much and he would find more room to work thanks to Rubio and All-Star forward
Kevin Love
. Recently, he spoke highly of Timberwolves coach Rick Adelman and his offense
to the Star-Tribune
. Whether Crawford decides to test free agency this summer would seem to be of little concern to Minnesota, as they are simply looking for better roster balance and the flexibility created by shedding Ridnour's future dollars.
The questions here are whether Portland can locate a better point guard option than Ridnour via trade, whether someone will offer more for Crawford prior to the deadline and whether moving Wallace instead of Crawford would bring back a significantly better package. (Wallace also holds a player option for next season.) For Crawford, moving on to a place that can offer the consistency in playing time and responsibilities that he thought he was getting when he signed up in Portland makes all the sense in the world, whether that is Minnesota or somewhere else.
Both sides have tried to make it work and so far it hasn't. The long-term prospects don't look good for a turnaround, either. That rumors popped up immediately after Crawford became trade eligible says it all.