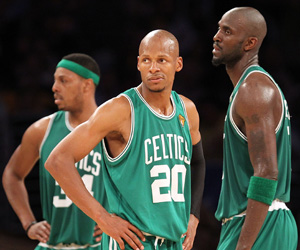 Ray Allen could be on the move before the trade deadline.
(Getty Images)
Posted by
Ben Golliver
Talk about a dream trade, at least from one side.
Multiple reports indicate that the Los Angeles
Clippers
are interested in trading for Boston
Celtics
guard Ray Allen in advance of the Mar. 15 trade deadline.
CSNNE.com reports
that the Clippers are one of a number of teams interested in the veteran sharp-shooter who is in the final year of a contract that pays him $10 million this season.
Among those believed to have some interest in Allen, are the Los Angeles Clippers. With the season-ending injury to Chauncey Billups, the Clippers have a huge void to fill at the shooting guard position.
SI.com also reports
the Clippers' interest, but foresees difficulty making the deal.
Yet for all the talk of Boston point guard Rajon Rondo possibly being traded, some league executives have shooting guard and free-agent-to-be Ray Allen pegged as the most likely to be moved. Sources say the Clippers are interested, having lost Chauncey Billups to season-ending injury and lost out to New York in the J.R. Smith sweepstakes. But the price is likely too high, as Boston wants a package that includes a young talent and a draft pick.
So, yeah, talk about a dream scenario: championship contender fills biggest hole with best available player at that position without real assets to provide in return. Not super likely.
Boston would indeed do best to move Allen at the deadline for a young asset and pick rather than allow him to expire this summer. Allowing him to come off the books this summer is a nice back-up plan, but he still has significant value, especially to contenders, because of his proven playoff ability. The aging, inconsistent Celtics have no shot of making a substantive run through the East; cashing in on Allen would make the deadline a success.
Quickly, L.A.'s interest here is obvious. Allen fits a hole perfectly, stretches defenses to open the court for All-Star guard
Chris Paul
, can make teams pay for double-teaming on All-Star forward
Blake Griffin
and adds the postseason experience a newly-formed team can't get enough of.
The only real rule from Boston's side is that any future money they take back must be for a player they see as a long-term fit or for a talented youngster on a rookie deal who will have the opportunity to blossom. That's where it gets tricky to make a deal with the Clippers.
The best package they could create would be
Mo Williams
,
Eric Bledsoe
and a future, future pick. Williams would be needed to help match contracts with Allen, Bledsoe is L.A.'s one remaining tradeable young asset and the pick would have to be generated from another deal or pushed into the future because L.A. has already moved its 2012 first
in a previous deal
. Another version could include trading
Randy Foye
's expiring contract, Chauncey Billups' expiring deal and Bledsoe but that starts to create roster spot issues for Boston to accept back all those players in trade.
The biggest problem with either scenario is that Bledsoe does not play a position of need for Boston. At 22, he unquestionably possesses untapped upside and, other than injury insurance, he doesn't figure to see much time as long as All-Star Chris Paul is in town. He's played just 64 minutes all season with so many veterans competing for minutes for the Clippers and because he's dealt with some injuries. His external worth to a team without depth at the one is far greater than his internal worth, making him an obvious trade chip.
But Boston has its own incumbent All-Star in Rajon Rondo and a young prospect in training in
Avery Bradley
. Assuming Celtics GM Danny Ainge doesn't move Rondo in a blockbuster -- always a possibility -- the uber-talented point guard represents the one bit of certainty heading into the future, with Hall of Fame forward
Kevin Garnett
and Allen likely moving on. Even franchise forward
Paul Pierce
's future isn't guaranteed. Rondo can be the cornerstone centerpiece in any rebuilding or blow-it-up scenario. All deals are therefore assessed on whether the incoming pieces fit with him.
Taking back Williams, who is on the books through 2012-2013 assuming he picks up his player option, doesn't make a lot of sense in that framework. He's playing well this season, averaging 13.5 points per game and shooting nearly 40 percent from deep, but he's not a starting caliber backcourt complement to Rondo and a GM facing the challenges Ainge is facing would likely prefer cap flexibility to Williams' contract, given its $8.5 million price tag.
Basketball fans should want Allen on the Clippers. It would transform L.A. into a team that could give both Oklahoma City and Miami a run for the title. But without the intervention of a third (or fourth) team or an extreme act of charity from Ainge, this one wouldn't seem to have real legs.