By Matt Moore
The
Mavericks
have pretty much freaked everyone out. The Mavericks not only held off signing three of their major championship components to long-term deals, presumably because of the luxury-tax implications in two years under the new CBA, they didn't re-sign th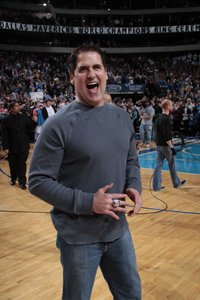 Mark Cuban says the Mavs won't be ringing up other teams at the deadline.
(Getty Images)
em, period. They moved a trade exception to get
Lamar Odom
, despite knowing Odom has never really had a lot of success outside of the cocoon of L.A. and Phil Jackson (though there was absolutely no way to predict how many personal issues Odom would unfortunately undergo which have impacted his play). They are rumored to be pursuing
Dwight Howard
and
Deron Williams
, but if so, why aren't they active on the trade market? To put it the way one Western Conference exec told the
San Francisco Chronicle
:
"I can't tell what Dallas is doing. I'm as confused as everybody else," one Warriors source said.
via
Considering the Warriors' trade possibilities
.
And the subterfuge continues. Mark Cuban himself told reporters before the Mavs' win over the
Knicks
that if fans are waiting for the Mavericks to dive into the trade pool with the deadline a week away, they shouldn't hold their breath.
If Mark Cuban can be believed, the Mavericks are only going to be players before the March 15 trade deadline if somebody blows them away with an offer.

It will not happen if teams are waiting on the Mavericks to start proposing deals.

"We're not calling anybody,'' Cuban said before Tuesday's game against New York. "I told Donnie (Nelson) to take calls, but we're not making any calls. There you have it.''
via
Mark Cuban: Mavericks are not making trade calls | Dallas Mavericks Blog | Sports News | News for Dallas, Texas | The Dallas Morning News
.
I know, I know. Cuban always says this. Teams always says this. Cuban said Saturday at the Sloan Sports Analytic Conference that they take pride in never letting trade talks leak. If we believed every GM, trades just spontaneously happen because no one ever calls anyone. But let's for the moment take his word. The Mavericks are closing in on a potential top-four seed and homecourt advantage in the first round. But from watching them, it's easy to see there's a big gap between them and the championship-caliber team of last year (in the shape of
Tyson Chandler
, specifically). And yet, the Mavericks remain painfully patient. So what gives?
Maybe it's the luxury tax and Cuban wanting to get space to make careful moves before the punitive measures take effect. Maybe it really is the big dream chase of Deron Williams and Dwight Howard in free agency, and wanting to boost Marion's value as much as possible. Maybe it's just a conceptual approach to flexibility. It may be smarter to simply allow yourself options down the road than aggressively pursue a plan.
But the fact remains, the Mavericks are baffling everyone and it's kind of freaking us out.