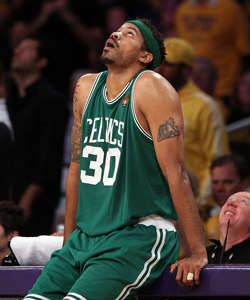 Rasheed Wallace and the Miami Heat. Really?
(Getty Images)
Posted by
Ben Golliver
It's about that time of the year for title contenders to stock up on veteran talent for the playoff push. But, really?
Fox Sports Florida reports
that the defending Eastern Conference champion Miami Heat recently worked out retired forward Rasheed Wallace.
A source close to the situation confirmed Rasheed Wallace has worked out with Heat, but source said he hasn't decided if he'll play again. Source on whether Rasheed Wallace would be interested if Heat wanted to sign him: "It's something he may consider.''

Source said Rasheed Wallace staying quiet on if he might play again because "doesn't want to cause a lot of hoopla'' if decides against it.
Wallace, 37, last appeared in an NBA game in June 2010, more than 20 months ago, as a member of the Boston
Celtics
. During the All-Star break, he was linked to the Los Angeles
Lakers
in
a report
, but so far nothing has officially materialized. Reports of a potential comeback previously arose
in January 2011
and back in
January of this year
. During the lockout, Wallace played in the North Carolina Pro-Am. Austin Rivers, the son of Celtics coach Doc Rivers and a freshman guard at Duke University,
dunked over Wallace
during one of the Pro-Am games.
The Heat always seem interested in big bodies, and were reportedly linked to free agent center
Joel Przybilla
before he signed with the Portland
Trail Blazers
in February. It's not clear what Wallace would bring to Miami -- besides hilarious jokes and sideline antics -- that Miami's big man rotation of
Chris Bosh
,
Udonis Haslem
,
Joel Anthony
,
Eddy Curry
,
Dexter Pittman
and
Juwan Howard
don't already provide. The Heat already has old age and hard fouling pretty well covered.
Wallace posted career averages of 14.6 points, 6.7 rebounds and 1.3 blocks per game during a career that included stops with the Washington Bullets, Portland Trail Blazers, Atlanta
Hawks
, Detroit
Pistons
and Boston Celtics. Wallace was fairly durable into his 30s, playing at least 75 games in five of his final six seasons.
According to Basketball-Reference.com
, he made more $156 million in salary during his 15 NBA seasons.
Hat tip: Pro Basketball Talk