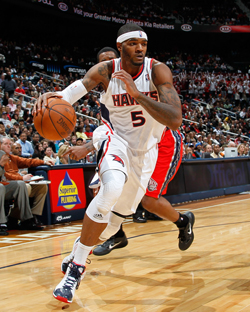 Is Josh Smith headed out of Atlanta?
(Getty Images)
Posted by
Ben Golliver
Atlanta
Hawks
forward Josh Smith has only known one home during his NBA career. And he's sick of it.
The Atlanta Journal-Constitution reports
that Smith has requested a trade from the Hawks.
Even as Josh Smith is having a strong season for the Hawks he has let the team know he wants to be traded as the March 15 deadline approaches, according to people with knowledge of Smith's thinking.

And the reasons for Smith's dissatisfaction with the team now have to make the Hawks wonder if they will be able to sign him to a contract extension next season.
The paper reports that Smith's grievances include being under a microscope, not getting enough organizational support for his All-Star bid and a belief that Atlanta doesn't have what it takes to compete for a championship. Smith would not comment on the report when offered the opportunity.
Smith, 26, is averaging 17.1 points, 9.8 rebounds, 3.5 assists, 2.0 blocks and 1.5 steals per game this season. He was
an obvious All-Star snub
this year.
According to StoryTellersContracts.com
, Smith is on the books for $12.4 million this season and $13.2 million next season.
That Smith is making noise with the trade deadline coming up next week is absolutely no surprise. He's been a regular on the rumor mill for years. Contract-wise, it's never made more sense for Smith to move. A team trading for him gets to add a versatile, hyper-talented 2-way player to their rotation in time for the playoffs with a test season next year to see if he acclimates to the new situation. There's no immediate pressure on the team side to keep him happy and there's no risk that he leaves for somewhere else in free agency this summer with the extra year on his deal. What's more, teams aren't trading into a contract they could come to regret. Smith is every bit of his cap number and we're talking about 1.5 years of paying him big money, rather than 3.5 or 4.5.
This all boils down to whether Atlanta has finally had enough and/or if they are able to find a way to offload him in a way that saves sufficient money to justify the loss. Even a disgruntled Smith is a major asset for the Hawks and there's a strong argument that he's Atlanta's best player, especially with
Al Horford
sidelined due to injury. You can understand why they would proceed with caution or delay the move as long as possible.
On balance, this just doesn't seem like an urgent situation from Atlanta's viewpoint, even if Smith really is itching to get out of town.