Posted by Chip Patterson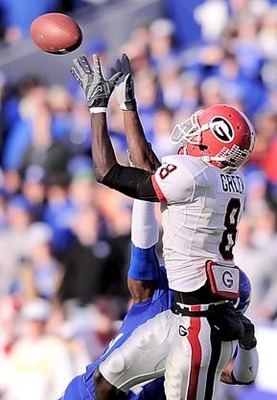 As
Georgia
head coach
Mark Richt
is preparing for the Bulldogs' season opener against Louisiana-Lafayette on Saturday, he is having to question whether or not he will have wide receiver
A.J. Green
on the field and eligible.
That, however, is not a question that he is prepared to
discuss in public
.
"Are you expecting A.J. to play Saturday?" Richt was asked at his post-practice media briefing Wednesday evening.

"A.J. Harmon? Yeah," Richt replied, referring to a backup offensive lineman.

"Green," the questioner corrected.

"You know I can't talk about that," Richt said. "It's a good try, though. I just can't talk. I don't know the answer to anything other than I'm not supposed to talk about the situation. And I really don't know."
Richt, Green, and the rest of the Georgia athletic department have been prohibited from discussing anything related to the NCAA's investigation as to whether or not Green has had any inappropriate dealings with agents. While Green's case has not been as high-profile as
South Carolina's Weslye Saunders
or
North Carolina's Marvin Austin
(both of whom are
suspended
indefinitely
), he still has yet to be cleared for Saturday's game.
Green was one of six receivers listed by offensive coordinator
Mike Bobo
in the rotation for Saturday, but no one would comment as to whether they were expecting the junior receiver to play.
For more breaking news and analysis follow us on Twitter
@CBSSportsNCAAF
or Subscribe to our
RSS Feed