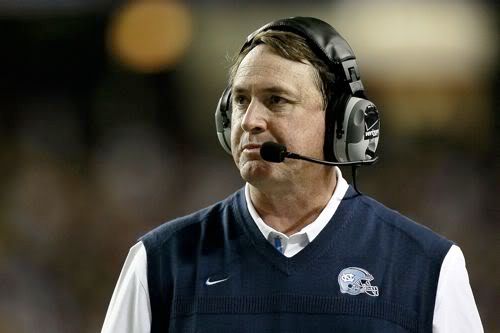 Posted by Tom Fornelli
The more we learn about
what's gone on in Chapel Hill
with the
North Carolina
football program and their connections with agents, the more obvious it becomes that at some point the NCAA is going to drop a sledgehammer on the Tar Heels. We don't know what the punishment will be, but it may end up being very similar to the "death penalty" the NCAA gave
SMU
in 1987. After the smoke clears to reveal the rubble left behind,
Butch Davis
isn't going to be left standing.
He'll be gone. Maybe he should be already, and there are plenty of people who are already calling for Davis to resign from his position, but it's not going to happen. When meeting with the media on Thursday Davis was asked if he felt it was in the best interest of North Carolins for him to resigh as head coach and he said "no."
He also had a message for those
who feel he should.
"I'd like for them to understand that we're doing everything we can to [be] a class program, to win football games the right way, to graduate players, and that we're going to do better. Anything that I can do, I'm absolutely willing to take a look at our program … and anything we need to do, whether it be from an academic standpoint, looking into the backgrounds of coaches, we're going to do that."
That's all well and good, but the fact of the matter is, you still let this happen. If somebody burns down their house playing with matches, they learn a valuable lesson about not playing with matches, but it still doesn't change the fact that they've burned the house to the ground.
As a head coach of a football team, I have no doubt in my mind that at some point Davis has talked to his players about taking responsibility for their actions on the field. If you make a mistake, you hurt the entire team.
It's too bad Davis isn't taking the same approach with his own life. Instead he just stands there, match in hand, pretending he doesn't know what happened.