Posted by Tom Fornelli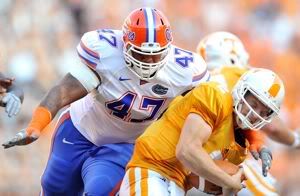 They say practice makes perfect, and if that is indeed the case, then it's no surprise that
Tennessee
quarterback
Matt Simms
feels he's really good at one particular aspect of his job. Simms has been sacked more than any other quarterback in the SEC, 18 times in five games, which means the Tennessee offensive line is allowing 3.6 sacks a game.
Which is good enough to rank them 117 out of 120 FBS schools.
The offensive line shouldn't worry about it, though, because Simms is pretty good at taking them. In fact, he thinks he's "mastered" the art of getting leveled by a blitzing linebacker.
"I know it sounds weird, but I really think I've kind of mastered how to take a sack and just protect my body and protect the football,"
said Simms on Wednesday.
"Really, most people would think you try to tense up and kind of ball up your muscle, but really you kind of relax and let your body go, really to be honest, and not try to brace yourself by putting your hand out or bracing the fall."
Which, in a way, just about sums up the entire Volunteers season for Tennessee fans. Just relax and welcome the deathblow.
Simms in on pace to be sacked 43 times this season, and that doesn't include the countless hits he's taking after getting rid of the ball. On Saturday against
LSU
I saw about eight pass plays in a row in which Simms either ended up being sacked or knocked on his butt. At that rate he'll be a full-fledged sack swami by November.