Posted by Tom Fornelli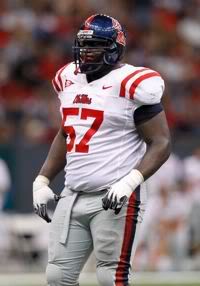 Man, you lose one game in two years and suddenly everybody thinks they know how to beat you.
Alabama
is hoping to rebound from its loss against
South Carolina
last weekend when they host
Ole Miss
this weekend, but according to the Rebels' defensive tackle
Jerrell Powe,
it isn't going to happen. You see, Mr. Powe watched the game against South Carolina and now he
knows the secret formula for beating the Crimson Tide.

"I think they got exposed, you know what I mean? Showed that they're a one-dimensional team, that they run the ball really well, and I think South Carolina did a good job of stuffing the run and they really couldn't get nothing going after they got stopped," Powe said. "I think they tried to come out and do the same thing they did against Arkansas - tried to wear South Carolina down with the run - but I think South Carolina did a great job of persevering through the whole game."
Wow, Powe cracked the secret code. Who knew Alabama was a running team? I always thought that
Mark Ingram
won the Heisman last season for his tremendous pass-blocking skills.
Listen, figuring out that stuffing Alabama's ground game is the key to beating them isn't a revelation. It's actually doing it that matters, which is something that nobody had done until the Gamecocks did it last week. So you'll have to excuse me if I don't have much faith in Powe and the Rebels this weekend, as last I checked the Rebel defense was 103rd in the nation allowing 32.6 points per game.
And those games include losses to
Jacksonville State
and
Vanderbilt.
Something tells me that if you can't stop Jacksonville State at home, you aren't going to be able to beat Alabama in Tuscaloosa.