Posted by Tom Fornelli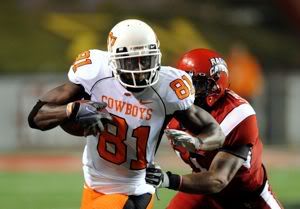 While
Oklahoma State
has already announced that wide receiver
Justin Blackmon will be suspended for this week's game
against
Kansas State
following
his DUI arrest on Monday
, and Blackmon has issued an apology, there still is the question of how Blackmon came across the tickets to Monday night's Dallas
Cowboys
game at JerryWorld.
JerryWorld is an expensive place to see a football game, one of the most expensive in the NFL, and given all the troubles going on throughout college football about contact between players and agents, it's a natural question to ask. How did Blackmon get those tickets, and will it result in any kind of NCAA violation for the school?
Well, at the moment, the school is pretty confident that
Blackmon did nothing wrong to acquire the seats.
Dallas Cowboy tickets are believed to have been provided to Blackmon and his friends by the father of a former OSU player. Cowboy athletic director Mike Holder would not comment on the Blackmon situation, but OSU sources indicate that athletic department officials are confident that no extra-benefit NCAA violation has occurred.
Which may be true, but considering everything Oklahoma State went through with
Dez Bryant
last season -- who happens to be a former OSU player that plays for the Cowboys, but this is just my brain connecting dots -- the last thing they want is the NCAA sniffing around campus right now.