Posted by Tom Fornelli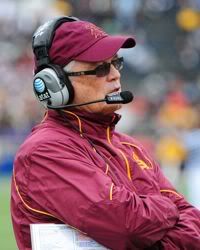 Arizona State
head coach
Dennis Erickson
has found the seat he's on to be rather hot this season, as Erickson's Sun Devils are 4-6 on the season and 2-5 in Pac-10 play. Last month Erickson
received a vote of confidence
from ASU AD
Lisa Love
, and on Friday he got an even bigger indication from Love that he'll be back on the sidelines in 2011.
Love was on 620 KTAR in Arizona on Friday, and she put any rumors of Erickson being fired to rest.
"I still support Dennis Erickson,"
Love said
. "You bet I do. You've got to allow someone to go through the entire process. I'm impressed, by the way, with the process, the recruiting roster, the level of talent and the stable of redshirts we now are able to have. As opposed to the last two years of playing true high school freshman. It's been rewarding to watch.
"I can tell you it's grueling to climb. It is grueling in a conference that is getting even more challenging to climb. I am absolutely confident, and Dennis Erickson has been since the day he walked in the door, that we will soon be 'popping' relative to our competitiveness in ASU football. I have faith that we are going exactly in that direction and I have faith in Dennis to get us there."
What about the rumors that Erickson is going to be fired?
"You can put those rumors to rest."
Erickson has been at Arizona State since 2007 when the Sun Devils went 10-3 and lost to Texas in the Holiday Bowl. Since then, however, the Sun Devils have gone 13-21 and haven't been to a bowl game since.