Posted by Jerry Hinnen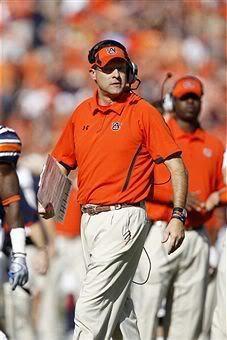 Given who's making the offer,
this report
from the
Tennessean
might say more about the upward spiral of college coaching salaries (particularly in the
SEC
) than
Nick Saban's
contract at
Alabama
ever could. Why? Because it claims that
Vanderbilt
--
Vanderbilt!
-- has just offered to pay
Auburn's
offensive coordinator some several hundred thousand dollars more per year in salary than
his own league title-winning head coach earns
:
Auburn coor­di­na­tor Gus Mal­zahn , who was in town Wed­nes­day, is thought to have recei­ved another offer from Van­der­bilt that approaches the ball­park of $3 million per year.
Say this much for Vandy: now that we know that the SEC's most downtrodden football program has the capacity to come up with this kind of scratch (though we're still not sure
how
), it makes a lot more sense why they parted ways with
Robbie Caldwell
after only one season. When you can make this kind of play for a property as hot as Malzahn, there's no reason to hold on to a well-meaning-but-limited coach like Caldwell.
As for whether Malzahn will accept, both
the report above
and
the one preceding it
at the
Tennesseean
make clear that despite the chance to double and possibly triple his maximum salary at Auburn, he hasn't accepted just yet. (
Maryland
offensive coordinator
James Franklin
has apparently moved up to second in the Commodore pecking order and would get the call if Malzahn declines.) He could be willing to wait out the falling dominoes at
Florida
and then possibly
Mississippi State
or
Arkansas;
they might not pay him as much as the Vandy offer and would be almost as difficult a job, traditionally speaking, but the latter would give him a chance to coach in his home state for a fanbase that is already wildly fond of him. That might be worth waiting on, though when we're talking about a ballpark $3 million bird in the hand, it also might not be.
In any case, it looks like Auburn will have to have those dominoes fall exactly right -- Malzahn waits on MSU/Arkansas, Vandy moves on to Franklin, Mullen goes to Florida, State can't make a strong enough offer or goes in a different direction -- to retain Malzahn's services for another year. The far more likely result at this stage is that he's gone, and that the bigger question for the Tigers now is simply keeping Malzahn as focused on the
BCS National Championship Game
as they can amidst the coaching storm.