Posted by Tom Fornelli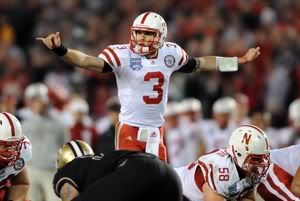 It feels as though
Taylor Martinez
has already gone through two seasons at
Nebraska
. There was the first half of his freshman year in which he lit up opposing defenses and had
Nebraska fans producing songs for him
. Then there was the second half of the season. The one that saw Martinez battle through a myriad of leg injuries, get chewed out by
Bo Pelini
, and ultimately ended with a loss to
Washington
at the Holiday Bowl.
Following that nationally televised dressing down, rumors began to pop up
that Martinez was looking to transfer
from Nebraska. Rumors that have persisted to this day, two months later. So much so, in fact, that Martinez felt the need to
release a statement
on Wednesday night to let everyone know he has no plans to leave Nebraska.
"To dismiss any rumors on my thoughts of transferring I'd like to state that I am anxious to get back to Nebraska Sunday evening and look forward to getting healthy and getting my strength and speed back," said Martinez. "I also look forward to using these past year's experiences and challenges to help me become a better all around person, football player and leader.
"I feel that with the players that we have coming back, along with the new talent that is coming into the Husker program that we will have great success for many years under coach [Bo] Pelini."
Let's just hope he doesn't make any more phone calls to his father from the locker room.