By Brett McMurphy, CBSSports.com Senior Writer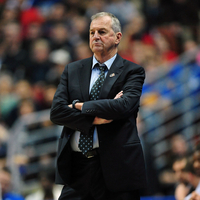 PONTA VERDA BEACH, Fla. –
UConn
basketball coach
Jim Calhoun
admits he likely won't be coaching when it happens, but he still sees it coming. And it can't be stopped.
Rapture? The end of the world? Not quite, but the end of the
Big East
Conference as we know it now.
"My own personal opinion – and I won't probably see this – in the next couple of years, four or five years down the road, I think you'll see a separation [of the football and non-football membership]," Calhoun said. "I think it's inevitable."
The Big East currently has 16 members, including eight football members. Next season with the addition of
TCU
, that number inflates to 17 all-sport members and nine football members.
That number could increase even more in the next couple of years with the Big East looking to expand its football membership by as many as three teams, which conceivably could result in a behemoth 20 member conference, including 12 football members.
Big East commissioner
John Marinatto
has said the Big East's 16-team basketball league could evolve into 20-teams, split into four pods of five teams or two 10-team divisions.
"If you go to 18 [members], oh boy," Calhoun said. "We're talking about going to 17 [now and that] creates enough different issues."
A split of the football and non-football schools has been speculated for some time, but league sources feel that would happen as only a last resort.
Calhoun, 68, said if the league split, the eight basketball members –
DePaul, Georgetown, Marquette, Notre Dame, Providence, Seton Hall, St. John's
and
Villanova
– would pursue some additional teams from the
Atlantic 10
, such as
Xavier
and
Dayton
.
"That's what I think could happen," Calhoun said.