Posted by Chip Patterson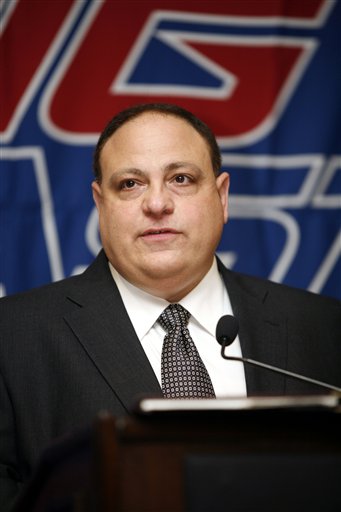 On Tuesday, the Big East held their annual meeting of the school Presidents in Philadelphia. As expected, commissioner
John Marinatto
used the gathering as an opportunity to get the official votes from league members regarding the specific plan for conference expansion. After the meeting, Marinatto provided a veiled update on the league's plan and timetable regarding expansion and the exit process for
West Virginia
.
"Our Presidents voted unanimously to extend invitations to specific institutions, including both football-only and all-sport members to join the Big East Conference," Marinatto explained in his official statement. "I will be speaking to representatives of those schools shortly and look forward to announcing with them their acceptance into the Big East. The addition of these members will extend our reach, bring us to exciting new markets, strengthen our status within the BCS, and lay the foundation for possible further expansion, all while maintaining the high quality and standards our Conference is known for.
"In light of the lawsuit filed by West Virginia yesterday, the Presidents also discussed and confirmed our continuing commitment to enforce the Conference's 27-month notification period for schools choosing to leave. The Conference believes these claims to be wholly without merit and will explore all its legal options to protect its interests and to ensure that West Virginia lives up to its obligations."
There are not too many surprises in this update, including the clarification that both football-only and all-sports invitations will be extended.
Navy
,
Air Force
, and
Boise State
are expected to be among the football-only invitations, while Conference USA schools
UCF
,
Houston
, and
SMU
have been awaiting official invitations to join in all sports since the 12-team football expansion plans began taking shape.
The real development in the statement is the league's plan to hold West Virginia to the 27-month withdrawal period. CBSSports.com's
Brett McMurphy
detailed West Virginia's lawsuit against the Big East hoping for an exit in time to compete in the Big 12 for the 2012-2013 academic year. In the Big 12's teleconference, West Virginia athletic director
Oliver Luck
explained that "our team is working with their team" to make it happen. Marinatto's statement on Tuesday suggests that this may be a more difficult process than the Mountaineers originally imagined.
Keep up with the latest college football news from around the country. From the regular season all the way through the bowl games, CBSSports.com has you covered with this daily newsletter.
|
Preview