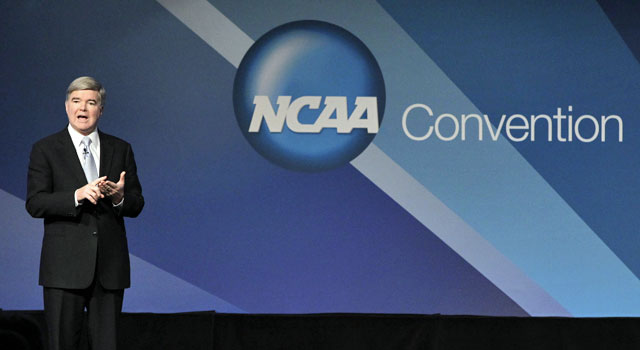 Posted by Bryan Fischer
Scandals, scholarships and rules changes were among the topics of frequent conversation at last week's
NCAA Convention
and while not everything president
Mark Emmert
wanted - the $2,000 cost of attendance stipend for example -
was passed by the Legislative Council and Board of Directors
, it's safe to say what happened in Indianapolis laid the ground work for significant changes that will impact schools for decades to come.
While details on most proposals from Presidential Working Groups finally emerged in some areas, the one place where there was plenty of talk but little substance was the new enforcement model that some in the organization have been tasked with reforming. After a year that included news about major infractions at
Tennessee, Miami, Ohio State, North Carolina
and others, it's no surprise that this would be one area of emphasis.
"We were damn mad and not going to take it anymore,"
Ed Ray, Oregon State
president and chair of the Enforcement Working Group, said.
The Enforcement Working Group that came out of August's presidential retreat was tasked with creating a tiered violation structure, new penalty procedures, a reformed process for adjudication and a reformed process that is fair while supporting the collegiate model the organization is looking to uphold.
"In terms of what is our charge, we heard President Emmert talk about this risk-reward analysis and the fact that there seems to be a general loss of integrity and upholding the rules," Vice President for Enforcement
Julie Roe Lach
said. "This isn't purely a reactive move, we're not just doing this because of the scandals or if there is a crisis. We're doing this because it's the right thing to do. This is a time to redefine what are our principles and what do we stand for."
In addition to following the principles of fairness, accountability and process integrity, flexibility is one of the key things the new model is designed to address as there are currently only two categories of violations: major and secondary. The new model would have four levels (most egregious, serious, secondary, minor) with the
Committee on Infractions
taking into account various mitigating or aggravating factors that would then help determine penalties. While many believe the enforcement side just makes it up as they go along (and they can because they don't follow past precedent), the model should help move cases along in the system quicker and result in more consistency among penalties given out to schools.
"The working group recognizes the wide-spread perception that the current penalty model leads to inconsistent and insufficient penalties and does not adequately deter other institutions and individuals from engaging in conduct contrary to the rules," the working group's report stated. "The working group believes that the severity of the penalty imposed must correspond with the significance of the rule violation(s)."
If it all seems a bit dense and hard to understand, it is. That's why the NCAA
created this proposed penalty matrix
that gives you a better visual idea of what future programs will have to get used to if they break rules. For example, if you commit a serious Level I offense and there were no mitigating factors, you can expect a 2-3 year postseason ban.
"We haven't had a lot of pushback on this," Roe Lach said of the new multi-level structure. "If there's anything in the package that is a no-brainer, it seems like this may be it.
"An issue we've heard is we need to be more consistent and allow for more predictability. I think if we are more consistent, it would afford more predictability. The idea is to move toward a penalty guidelines model."
So how does it really work? Well, take the infamous
USC
case involving
Reggie Bush
and
O.J. Mayo
among others: violations of NCAA bylaws governing amateurism; failure to report knowledge of violations; unethical conduct; violations of coaching staff limitations; impermissible recruiting contacts by a representative of the institution's athletics interests; impermissible inducements and extra benefits; and lack of institutional control.
According to the new model, this would be classified as multiple Level I violations with four significant aggravating factors. Here's a comparison of penalties with what the Trojans got and what they would have received under the new model:
So yes, USC would have been punished
even worse
under the new proposed enforcement model coming from the NCAA. That's interesting because athletic director
Pat Haden
is on the enforcement working group and has made it a point to say that
the Trojans were unfairly punished
. In other examples provided by the NCAA,
Baylor's
basketball program would have seen the number of scholarships available slashed in half following the school's 2005 infractions case. Instead of fewer practice hours for
Rich Rodriguez
and
Michigan
in their case, the Wolverines could have lost up to four scholarships per year.
Florida State's
2009 case could have seen football scholarship losses of 10-21 per year for three years instead of the six they received.
Given the new model, expect the hammer from Indianapolis to come down harder on cheaters in the future.