Posted by Chip Patterson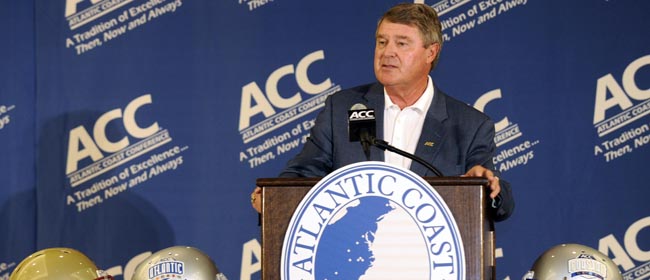 With very little warning, the ACC made one of the most prominent moves in conference realignment in the middle of the 2011 regular season with the addition of
Pittsburgh
and
Syracuse
from the Big East. The bylaw-mandated 27-month exit period was thought to be negotiable, but all signs from Big East commissioner
John Marinatto
indicate that the league will hold all departing members to full withdrawal process.
Following the process outlined in the bylaws would hold off the conference move until the 2014-2015 academic year. While the ACC has made it clear they are prepared to work with the Big East to get Pittsburgh and Syracuse to the league sooner, they have not made any legal efforts to expedite the process. With the release of the ACC regular season schedule coming in early February, it is beginning to look unlikely that either school will be in the ACC for the 2012 season.
"You never say never, but it's unlikely there would be major changes once [the schedule] is set,"
Mike Finn, ACC associate commissioner in charge of football communications, told The Charlotte Observer
.
The SEC and Pac-12 have both released their conference schedules for 2012, and the rest of the major conferences will likely follow suit in the next several weeks. The ACC released the 2011 league schedule on Feb. 14.
While the ACC seems comfortable waiting out the exit period,
West Virginia
is having a much more difficult time leaving the Big East. Both the school and the conference have filed competing lawsuits regarding West Virginia's plans to join the Big 12, and a Rhode Island judge has ordered both parties to enter non-binding mediation. West Virginia hopes to reach a settlement allowing the school to join the Big 12 in time for the 2012 season, while the league has no plans of making exception to the bylaws. A status conference has been scheduled for Feb. 9, as both parties hope to reach a resolution before the Big East and Big 12 release their conference schedules.
When the Big East releases their schedule for 2012, I would expect to see West Virginia, Pittsburgh, and Syracuse on the slate. If the Big 12 includes West Virginia as well, it could lead to potentially massive headaches for both conferences. It seems as though the ACC is content avoiding the legalities and welcoming their new additions at a later date.
Keep up with the latest college football news from around the country. From the regular season all the way through the bowl games, CBSSports.com has you covered with this daily newsletter. View a preview. Like us? Tell our Facebook page.