Posted by Chip Patterson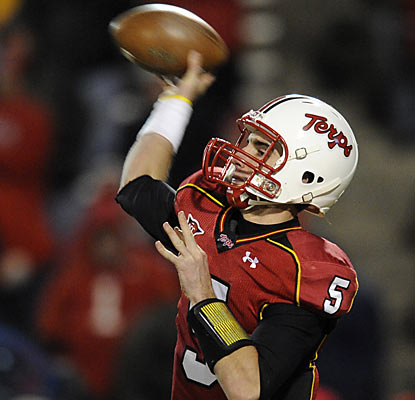 Maryland
quarterback
Danny O'Brien
has been released from his scholarship and will seek a transfer, the school announced on Monday. O'Brien's exit was announced in an official release along with starting offensive tackle
Max Garcia
and linebacker
Mario Rowson
.
"I'm disappointed by Danny's decision," head coach Randy Edsall said in the release. "Danny told me that he's not committed to our program, that he's not 'all in.' I want what's best for all of our players. Danny wants a fresh start elsewhere. I wish him well."
O'Brien, the 2010 ACC Offensive Rookie of the Year, is coming of a rough sophomore season that included temporarily losing the starting job to freshman
C.J. Brown
. After lighting up opponents under former offensive coordinator
James Franklin
for 22 touchdowns and just 8 interceptions, O'Brien struggled in the new system. He finished 2011 with 1,648 yards, seven touchdowns and 10 interceptions.
Sophomore Max Garcia started all 12 games at left tackle for the Terps, and according to Edsall is transferring closer to his home (Norcross, Ga.) to be near family. Rowson started four games as a redshirt freshman in 2011, and made appearances in 11. Edsall identified Rowson's displeasure as a position issue.
O'Brien's departure hurts the Terps' offense, particularly with the addition of prized recruit
Stefon Diggs
. Diggs, the nation's No. 14 overall recruit according to
MaxPreps
, reportedly was hosted by O'Brien on a recent visit to College Park. When the top ranked wide receiver
announced his plans to stay home and play for Maryland
, fans hoped that would be a good sign for retaining the strong armed quarterback.
Rising sophomore C.J. Brown now will be the top returning quarterback for the Terps. After being primarily a rushing threat in 2011, it will be interesting to see how Diggs and Brown are used by new offensive coordinator
Mike Locksley
.
Maryland opens spring practice March 10, for all the latest check out the
Terrapins RapidReports
.
Keep up with the latest college football news from around the country. From the opening kick of the year all the way through the offseason, CBSSports.com has you covered with this daily newsletter. View a preview.
Get CBSSports.com College Football updates on Facebook