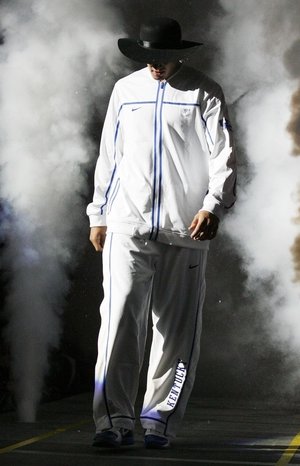 Posted by Matt Norlander
Is it possible a probable top-five NBA pick would bypass playing pro for a chance to wear Kentucky threads?
According to Enes Kanter's father, yes.
Sporting News'
Mike DeCourcy,
who's had contact with Dr. Mehmet Kanter
before, corresponded with
him again recently.
Dr. Kanter is making Internet headlines this afternoon because of these words:
"Enes would do anything to play and help UK, his teammates and fans," Mehmet Kanter wrote. "In the last two years, one thing me and Enes never discussed was him being pro. He didn't mention to me about NBA or draft and I guarantee you as a father – if that's the NCAA's decision Enes will be a sophomore next year in UK."
DeCourcy's piece emphasizes the point: the elder Kanter is speaking on behalf of his son and guaranteeing Enes Kanter will play for John Calipari next year if the NCAA rules him permanently ineligible for this season.
Easy to say now, when the money's not spread out on a table before him and aren't in the room, painting the picture of just how rich Kanter can be by June of 2011.
The basic rundown on Enes Kanter, if you need the catching up: He's a Turkish-born player who, in order to further his career/improve his chances at playing collegiately in the United States, played on a professional team, Fenerbahce Ulker, in his home country. But after UK recruited him and Kanter was admitted into the school, it was discovered
he received too much money
while playing overseas. That led to him being
declared ineligible.
The NCAA doesn't prohibit young men from playing on pro teams; the rub is all in the amount of money they receive. It was deemed Kanter was paid beyond normal living expenses.
Since then, it's been a lot of back and forth, and the general manager of Fenerbahce
hasn't been so helpful in the process
(he would benefit from Kanter going back to Turkey and playing there which, yeah, isn't happening). Kentucky shifted its attack with the NCAA three weeks ago,
dropping its appeal of the decision and instead realigning and presenting an entirely new case
on Kanter's eligibility.
That's where we stand now. Word could and should come soon on if Kanter can and will play for UK this season. This process has felt like it's been going on four times as long as it should have.
Beyond everything, this gives Kentucky fans more hope they'll get to see a player in their team's uniform ... at some point ... maybe. He's become a
cult figure in the Bluegrass State
because of this elongated drama.