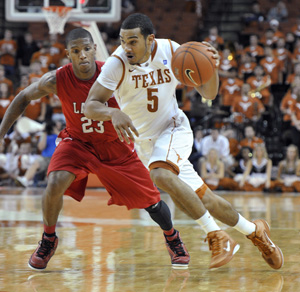 Posted by Eric Angevine


There are three distinct parts to a college basketball season: Non-conference, league play and postseason. We've just finished the non-con battles for the most part, so it makes sense to look at how some of our top conferences fared. Matt Jones did it yesterday with his look at the SEC's rough start , and I'll check out the Big 12 today.
Kansas Jayhawks (11-0)
When KU's non-con schedule was announced, Memphis looked like the best matchup, talent-wise, for the Big 12 bullies. In practice, however, the Pac-10 teams on the slate wreaked the most havoc. UCLA put up the toughest fight, nearly ending an Allen Fieldhouse home-court winning streak that went all the way back to Billy Gillispie's days at Texas A&M. A week later, USC almost spoiled Josh Selby's debut behind a strong effort from their own new arrival, Jio Fontan. The Jayhawks have four more games before conference play starts, with a trip to Michigan looming as the main roadblock to an undefeated first half of the regular season.
Baylor Bears (8-3)
The Bears were doing just fine until they went to Hawaii for Christmas, with only a close loss to Gonzaga on their record. Then Washington State and Florida State each took a chunk out of Baylor's hide at the Diamond Head Classic, preying on A.J. Walton's tendency to turn the ball over. Baylor has a 'big three' of LaceDarius Dunn, Perry Jones and the underrated Quincy Acy, so if they can get the ballhandling chores squared away, this will all be a blip on the radar come March.
Texas Longhorns (10-2)
The Longhorns were patient with freshman combo guard Cory Joseph (right) in early-season losses to Pitt and USC, and the confidence he's gained since has really paid off. Joseph hit the game-winner in UT's win over North Carolina, and played nearly turnover-free ball at the Breslin Center to help beat Michigan State. Where the Longhorns have really matured is on the defensive end. They boast the nation's best defensive eFG%, which means they are extremely difficult to score on from any spot on the floor.
Texas A&M Aggies (11-1)
The Aggies lost to Boston College in November, and haven't looked back since. Their non-con schedule hasn't been particularly tough, but a close win over defensive buzzsaw Temple and recent victories over Washington and Arkansas showed A&M can win ugly when necessary. Outstanding effort on the boards has been the calling card of Mark Turgeon's team thus far.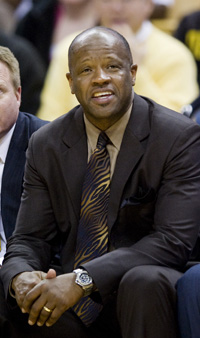 Missouri Tigers (10-1)
The Tigers' version of Forty Minutes of Hell has been well-tested thus far. A high-scoring OT affair with Georgetown is the team's only loss, and it's balanced by wins over Vandy and Illinois. Slow and steady Old Dominion is the final big test before Mike Anderson's (left) team begins the Big 12 season with a double header featuring less-than-terrifying lame duck leaguemates Colorado and Nebraska. Point guard injuries haven't slowed the Tiger running game at all, but the big men need to get more efficient at cleaning up the misses.
Kansas State Wildcats (10-3)
Senior leadership got a new definition when Jacob Pullen and Curtis Kelly were suspended for accepting free clothing from a Manhattan (KS) store. The three losses were to Duke, Florida and UNLV, so it's hardly time to panic, but a high turnover rate and a baffling inability to hit free throws are major areas of concern for a team that was once considered Final Four caliber.
The Rest
Nebraska Cornhuskers (10-2)
Oklahoma State Cowboys (11-1)
Iowa State Cyclones (11-2)
Colorado Buffaloes (8-4)
Texas Tech Red Raiders (6-6)
Oklahoma Sooners (6-6)
If there's a member of this group that could surprise, it's the Cowboys. Travis Ford's team has a couple of nice senior bulldogs in Marshall Moses and Matt Pilgrim, and they've been pretty efficient on both ends of the floor. The only problem is that they haven't played anyone yet, so they'll get their first major test against Gonzaga on New Year's Eve.
Nebraska had a weak offensive attack before Christian Standhardinger decided to depart the team, and now things could regress. Colorado is… Colorado. What else needs to be said? Iowa State has lost to much-reduced versions of Northern Iowa and Cal as they work to rebuild under Fred "The Mayor" Hoiberg. Texas Tech has lost to teams large and small across the state of Texas, and seem likely to endure a brutal beating when they face New Mexico on Wednesday. The best thing Jeff Capel can say in defense of his Sooners is that they haven't lost at the Lloyd Noble Center yet. Yet.