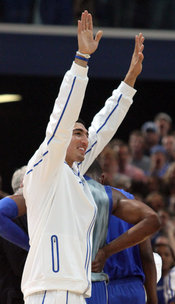 Posted by Matt Jones
With Kentucky close to entering SEC play on Saturday versus Georgia, the status of the elephant in the UK locker room is also about to be determined. A source has confirmed that today is the day when
Enes Kanter's final appeal
will be heard by the NCAA. The Turkish big man's saga has been a confusing one. After initially being ruled permanently ineligible by the NCAA due to benefits he accepted while a member of a Turkish basketball club, Kanter's appeal was then delayed after the Cam Newton decision. Kentucky went back to the NCAA, citing supposed "new information" and since the NCAA agreed to rehear the case, Kanter and UK have been in limbo.
Now, according to sources, Kanter will face the NCAA appeals board this afternoon, with a decision expected within the next 72 hours. Because the Kanter situation has been deemed an "appeal", it is assumed that Kanter lost his rehearing with the NCAA, although no official ruling has been released. The appeal this afternoon will likely represent the final stage of Kanter's eligibility determination by the NCAA, and one way or the other, Kentucky and Kanter should get closure on the process. Many NBA scouts project Kanter to be a potential Top 5 pick in this year's NBA Draft, although his father has stated that if allowed to play next season, he will return to the University of Kentucky.
For the state of Kentucky, the "Free Enes" campaign has gone non-stop for over three months. By next Monday, we will know if it worked.
Photo: AP