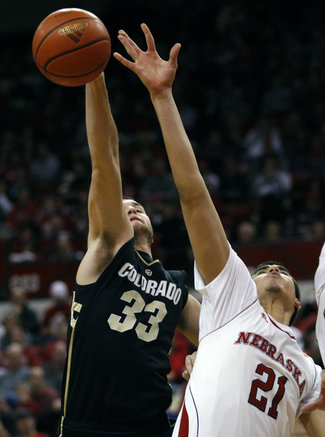 Posted by Matt Norlander
You miss this last night?
Colorado wins,
92-70.
Missouri improves to 14-1 with
98-58 victory.
Problem? Yeah, they came against schools that can't qualify for the NCAA tournament. Why are these two teams wasting their time with D-II opponents at this point in their seasons? I couldn't believe it when I saw it, but wanted to make sure my reaction wasn't ill-informed. Hey, maybe this isn't uncommon; maybe there're a number of teams that squeezed in a gimme game just before or after Jan. 1. So I scanned through the schedule of every major-conference team. ... Nope.
Nobody
else has played a non-D-I team in the past four weeks, let alone in 2011.
Only these two Big 12 dwellers. Busted! And the only two other teams to play a non-D-I school in December: Michigan and Oregon, two programs still rebuilding (though Wolverines fans are about tired of that), and they got their easy wins before most people had Christmas trees erected in their living rooms.
Colorado I understand, to a degree. Tad Boyle is in his first season there, the Buffs are on their way out of the Big 12 after this academic year ends, and perhaps the game needed to be squeezed in? Maybe that's the thinking, but I find it weak, if so. It's not like Colorado had to get in a game to make up for restlessness. The Buffaloes had a
manageable five days off
between Cal State-Bakersfield Sunday and Missouri this Saturday. Teams often go a week between games in November or December. Some coaches refuse to schedule a D-II or D-III school out of pride.
Nothing wrong with that.
And so we come to Missouri. How appropriate it also decided to have a cupcake before the Big 12 appetizer begins this weekend with weak-minded Colorado. Now, the Tigers have been way too good under Mike Anderson in the past three years to justify this kind of scheduling. The win doesn't help the team in the slightest — the tournament selection committee will look down on the game, though it can't use the win (or if it was a loss) to help/hurt Missouri's seeding.
I've really got no issue with teams giving a paycheck to schools that aren't D-I. Schedule the games in the first five weeks of the season, when a gimme or two needs to be out there for morale or strategy's sake. But not after that. Win or lose, the players see the games as glorified practices. It doesn't advance the team's ability or mindset by planting this kind of contest so close to conference season.
From that Missouri link above, this quote made me chuckle.
"Those games are a little tough," said Missouri's Kim English following Wednesday night's 98-58 slaughter of the Lions. "Going into it kind of knowing, really being confident, that you're going to win. But you still have to play. Because on any given night, you can get beat."
Not when you're as talented and aggressive as the Tigers are, Kim. When you're that good, no need to waste time and effort playing against competition that can't factor into your regular- or postseason plans.
Photo: AP