Posted by Eric Angevine

In my Monday column Coach Speak, I usually focus on one college coach who I deem to be on the 'hot seat' in terms of losing his job. I've never really thought about putting Northwestern's Bill Carmody on the list, because the Wildcats' head coach has been in place for 11 years already, and the school doesn't seem to be interested in cutting him loose or putting any pressure on him to finally get that NCAA bid.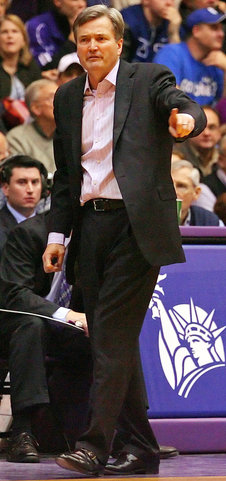 So, I didn't exactly expect him to get fired. However, I certainly didn't expect
Carmody to get a contract extension
just two days after my colleague
Matt Norlander wrote the obituary
for another promising season in Welsh-Ryan. The university's student newspaper provided a little perspective on the news, following the announcement.
During Carmody's tenure at NU, he has amassed a 150-167 record and led the Cats to three winning seasons as well as back-to-back NIT appearances in the 2008-09 and 2009-10 seasons. When he came to NU after a four-year stint as Princeton's head coach, Carmody brought with him his patented Princeton offense, a complex system that relies heavily on movement and efficient backdoor cuts. Carmody's team-oriented offense helped to revitalize a program that had put together just three winning seasons between 1969 and his arrival in 2000.

Over the past ten seasons the Cats have clocked three winning seasons, including a program-high 20-win season in 2009-10. Carmody was named Big Ten coach of the year in 2004 after leading NU to a fifth-place conference finish.

-Katherine Driessen, The Daily Northwestern

Three seasons above .500 and no Big Dance invites will get you fired in year three at most Big Ten schools, but there's little doubt that firing Carmody would be a major step backward for Northwestern. If anything, his success at one of DI's most challenging recruiting outposts is the catalyst for the higher expectations that now fall on this team's shoulders. Before Carmody arrived in Evanston, the suggestion that Northwestern would ever climb that mountain would have been laughed at, and rightly so.

Besides, if you're going to get all hot for a coach's ouster , isn't it a good idea to have a suitable alternative in mind? Change for the sake of change can work if you're a high-profile school that has several good candidates to work with -- Oregon's ability to land the excellent Dana Altman after a long, embarrasing summer of rejection is an example of this mojo at work -- but the odds of anyone with a hot hand lining up to take Carmody's job is laughable, really.

Keeping Carmody around might not excite the masses, but Northwestern will gain more out of steady, decent, NIT-level play than they would from a rash move. As the Chicago Tribune points out, the 'Cats have actually found a home-court advantage over the past three years, and that's no small thing. If the purple and white can learn how to win on the road from time to time, that special season could be closer than ever before.

If there's one piece of advice I'd like to give Bill Carmody, with sincere hopes that he and his team will follow it, that advice would come in the form of this quote from the 1996 film Swingers :

"I don't want you to be the guy in the PG-13 movie everyone's *really* hoping makes it happen. I want you to be like the guy in the rated R movie, you know, the guy you're not sure whether or not you like yet. You're not sure where he's coming from. Okay? You're a bad man."

Now that you have the security, go out there and be the right kind of bad, Wildcats.
Photo: US PRESSWIRE