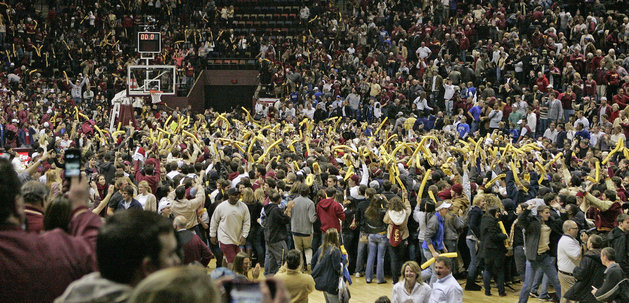 Posted by Matt Norlander
We've been spared the conversation, thankfully.
That cheap, made-for-talk-radio and easy-fodder-for-columns topic that would've flooded the airwaves and Internet and newspaper pages had Duke made it to February, flawless:
Can the Blue Devils go undefeated?
No, they can't. And they never could. Especially after the team's chances dipped significantly in the wake of
Kyrie Irving's toe injury,
causing the phenomenal freshman point guard to sit out indefinitely. Tonight, his presence was sorely missed.
Tonight — the first evening college basketball really got to itself now that college football season is over — Florida State gave the general public something terrific:
an upset over American's most well-known college basketball team.
It was terrific. It was an ugly game (just how Florida State wanted it), but Leonard Hamilton's Seminoles ended the Blue Devils' undefeated campaign with 66-61 grinder of a game in Tallahassee.
It's the fourth win over a No. 1-ranked team in FSU history; three of those victories have come against Duke, at home; the 'Noles pulled off upsets in 2002 and 2006.
How'd it happen? Well, in a way, the Blue Devils sort of just showed up and accepted their fate. I'm not saying they didn't try, but they looked off all night. They lacked fire and certainly lacked toughness and hustle (gasp!) at times. There was a lot of sloppy play — 30 total turnovers — and amid that mess Duke tried to shoot the 3 in order to win.
Of course that's a tactic which has become a Duke staple for more than a decade now ... but against FSU, it wasn't the way to go. Mike Krzyzewksi's boys shot 11 for 35 from beyond the arc (accounting for 57 percent of the Devils' shot selection), attempting to win by playing around Florida State's biggest strength: interior defense.
Nobody is better at swatting shots
than the Seminoles, and few teams are better, all-around,
from a defensive standpoint.
Down the stretch Duke kept it close but the Seminoles stood tall, which was refreshing to see from a team that recenty lost to Auburn, the worst BCS team, by a mile, out there. While Duke was heaving 23-footers, Florida State went 5 for 6 from the foul line in the final minute of play. Some issues for Duke have surfaced (Mason Plumlee, pick up that white courtesy phone, please), but those are things for another post. I am ashamed to say I hedged on the possibility of this happening
when I wrote this piece
on FSU a couple weeks back. But before the game tonight,
I almost
went there!
Finally, it's time to play "Let's! Get! Obvious!" by stating: Going undefeated is just
so hard to do.
Harder to do in college basketball than college or pro football. Duke was the latest elite team to show us why.
Now we wait on Ohio State, San Diego State, Kansas and Syracuse to give us their demonstrations as further proof.
Photo: AP