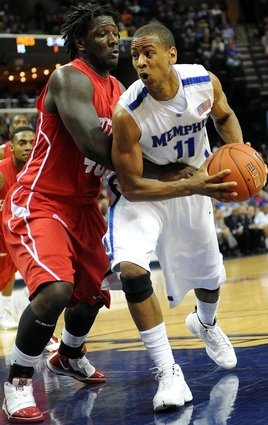 Posted by Matt Norlander
His message was delivered quickly, but Josh Pastner seems to be about second chances.
You can't deny
he's high on the discipline, though.
Pastner, the head coach at Memphis,
announced last night
he'll let junior forward Wesley Witherspoon back on the team Thursday morning. That reinstatement comes the day after the Tigers' big road game against 14-3 Southern Mississippi, which happens to be one of the best teams in (a relatively weak) Conference USA.
While Pastner characterized the suspension as a "very, very minor situation," Witherspoon hasn't practiced with the team since the SMU trip and was held out of the Tigers' 77-61 win over Marshall on Saturday.

"The plan is to reinstate him on Thursday and have a fresh, clean slate. I'm taking it day by day," said Pastner, who met with Witherspoon on Monday. "We had a good meeting. It was good.

"Very positive and very productive."
Pastner can downplay Witherspoon's actions all he wants, but the drama around this program will not go away until the season ends. Like I noted above, Pastner's a disciplinarian, but also not above letting guys come back, tail between their legs, and give it a second go.
That's what happened with freshman Jelan Kendrick in November —
before he inevitably transferred.

What's going to be interesting is to see how Memphis plays without Witherspoon against Southern Miss. If the Tigers win big, then talk radio (which is almost always all about Memphis basketball) will be abuzz over whether Witherspoon returning so soon is a good thing.
If the Tigers win, they're 2-0 without Witherspoon and 12-4 with him. It's sample size, but it won't stop fans from making and taking that leap. If Memphis loses, then of course the conversation's different.
The details of why Witherspoon was suspended
were covered in Gary Parrish's blog post a few days ago.
While what he did was disrespectful, it's hardly the most heinous of acts. The Tigers are hardly a bubble team right now. Their at-large hopes rest in what happens over the course of the next three games: at Southern Miss, at 12-4 UAB and home against 14-2 Central Florida.
If Witherspoon's paid his dues, Pastner's got little choice but to get him back on the team as soon as possible to keep March hopes alive.
Photo: US PRESSWIRE