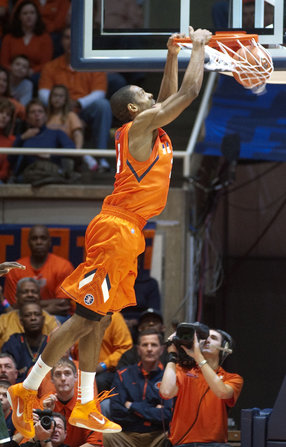 Posted by Matt Norlander
I'm not going to beat to death or beat the drum re: Michigan State having a down season. We are aware of this and, really, until they flame out in the first round, that's all a lot of noise.
But what I'd like to point out is how unimpressive the Spartans have been away from home, and how it could be the thing that prevents Michigan State from making The Tournament.
That going to happen? Unlikely, but if it does, the issues away from East Lansing will be the primary catalyst.
Sparty dropped to 4-2 (did you think they'd have a worse in-conference record than that after the Illinois loss? Not knowing their record off the top of my head, I thought the L would bring Tom Izzo's team to .500 in the Big Ten) after
falling 71-62 in Champaign last night.
Overall, Izzo's group is now 12-6 with a 4-5 record outside of the Breslin Center. One of those four wins came against Division II Chaminade, a game that the Spartans
came close to losing.
Last night's performance wasn't a terrible loss, but did it inspire any viewer to think twice about the Spartans? Illinois is a good team, one that's going to wind up with a 4-seed or better, most likely. And it is tough to win on the road in any major conference against a team that's on pace to end its season with a single digit in the loss column. That I know.
I also know I've seen Michigan State take advantage of other teams in these spots in the past. After having lost to Penn State and Wisconsin in back-to-back games, the Illini were as desperate for a win as Michigan State, only you saw that desperation in the Illini last night.
Winning in March is about neutral-court success. Road performance isn't always the strongest indicator, but it is a barometer reading of sorts. If you're a team that's noticably different once you put on the white unis and play outside your gym, then that's an issue that often needs immediate resolve but doesn't get it. Changing that mental makeup more than halfway through a regular season isn't simple. It's often impossible.
I think it could be one of the biggest issues facing MSU, a team that's seemingly on a collision course with an 8/9 game. Sparty is losing these road/neutral-site games by an average of nearly eight points. A lot of them aren't close, and there's a lot of inconsistency.
Factor in everything you want, from team turmoil in the offseason, to the inconsistent backcourt play, to Draymond Green not finding a proper niche, to lacking the dominant rebounding and interior scoring presence that we're accustomed to seeing from a Michigan State team. Factor all that in, and when it adds up to mediocre play on the road and a Sparty team that seems somewhat alien in its Big Ten play.
Photo: AP