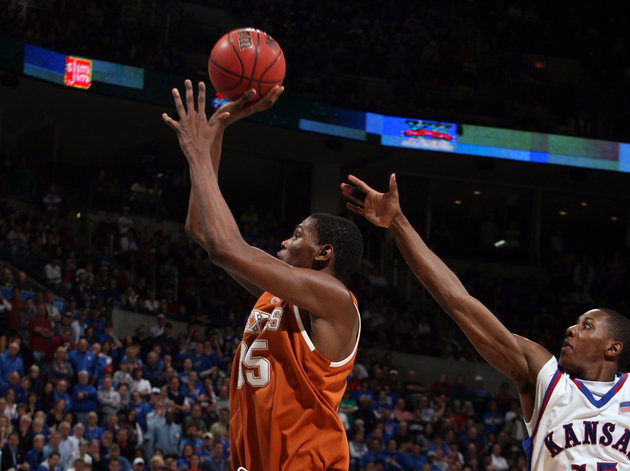 Posted by Eric Angevine


Prior to the formation of the Big 12, the Texas/Kansas rivalry was nonexistent. Thanks, primarily, to Rick Barnes building the Longhorns into a perennial powerhouse, the annual game has become a matchup that both teams and most fans circle on the calendar when schedules are announced each season. The intensity of the rivalry is honed a bit by the fact that Kansas plays in the league's North Division and Texas plays in the South, so there's no reciprocal game; the host school pours a season's worth of passion into beating an arch-rival, knowing that only a Big 12 tourney game could ever provide a second chance for the loser.
With that in mind, I've picked out ten amazing performances that have made this rivalry special over the past decade.
10.
Collins Goes Out Strong (2010):
In his final career game vs. Texas, Sherron Collins had to come up big down the stretch, as the #14 Longhorns staged a home rally against the #1 Jayhawks. KU's winningest all-time player scored 15 points to go with five assists and four steals to seal the deal.
9.
UT Sweeps (2004):
Bill Self was the new guy on the block at Kansas, and he got an early taste of defeat at the hands of the Longhorns. Byron Mouton scored 23 at home to lead a convincing 82-67 win, then poured in 18 more in the Big 12 tournament semis to pace #11 Texas over the nation's #14 team.
8.
Simien Dominates (2005):
The rare KU superstar who actually hailed from the state of Kansas, Simien led the scoring in a game that turned out to be Rick Barnes' worst loss since he came to Texas in 1998. The final result was a 90-65 blowout as Simien showed his determination to protect his (Allen Field) house.
7.
Damion James Comes Alive (2008):
After sitting out much of the first half due to foul trouble, Texas star Damian James came out with ferocious intent in the second half of a 72-69 home win. James finished with 14 points and 13 rebounds. All but two of the points came in the second stanza, and all of the boards were second-half production.
6.
Morningstar's Double-Clutch (2010):
Not much needs saying. This one's purely visual.
5.
Aldridge Goes Off (2006):
No, not Cole Aldrich. LaMarcus Aldridge. This is the kind of performance, like Byron Mouton's in '04, that really fuels a rivalry like this one. Whether the nation at large takes note or not, the respective fan bases remember when these types of games happen. This 80-65 drubbing of the Jayhawks happened at the Frank Erwin Special Events Center in Austin, and big man Aldridge was unconscious, scoring 18 points on 9 of 10 shooting, grabbing eight rebounds, and blocking four shots in one of his best college games.
4.
Mario Pops for 30 (2008):
In hindsight, it was a preview of what Mario Chalmers would do for the Jayhawks as they captured the national championship. At the time, however, it was just one more of the several battles for the championship of each other that UT and KU have joined. Chalmers went a wicked 8 of 12 from behind the arc in the Big 12 tourney's final game. It was his career high at KU, and helped the Jayhawks earn a #1 seed in their tournament run of destiny. Texas' D.J. Augustin had 20 points and 9 assists in a losing effort.
3.
T.J. Ford Fills the Stat Sheet (2003):
25 points, 7 rebounds and 10 assists. That's how close T.J. Ford came to notching a triple-double in Allen Fieldhouse in January of 2003. It was a typically amazing performance for the point guard who led the Longhorns to the Final Four that year. Had he been able to get the Horns past Syracuse, there's little doubt that the ensuing battle with Kansas for a national title would have been epic.
2.
Collison Cowboys Up (2003):
Yep, same game. That's how tough the 2003 matchup was for both teams. It was a real battle royale, as KU's Nick Collison basically had to become a one-man wrecking machine inside to gut out the home win. His 24 points and 23 rebounds inspired a standing ovation from none other than Dickie V, who called it "one of the most special efforts I've ever seen."
1.
Kevin Durant (2007):
There was only one season in Austin, and just two games against Kansas, but KD was an absolute joy to watch, for friend and foe alike, in that season. #15 Texas went to Allen Fieldhouse on March 3, and KU barely rallied to overcome Durant's 32 points, six three-pointers, nine rebounds and two blocks to pull out the win. Just eight days later, in the Big 12 championship game, the Hawks needed OT to pull out the victory, as Durant fired up 37 points, grabbed 10 boards and again blocked two shots. Just a smidge of help from anyone not named A.J. Abrams, and 2007 could have been an even more legendary year for the Longhorns.
#11 Texas will journey to Allen Fieldhouse to take on #2 Kansas on Saturday. The game will be televised at 4:00 p.m. on CBS |
Video Preview

Photo: US Presswire