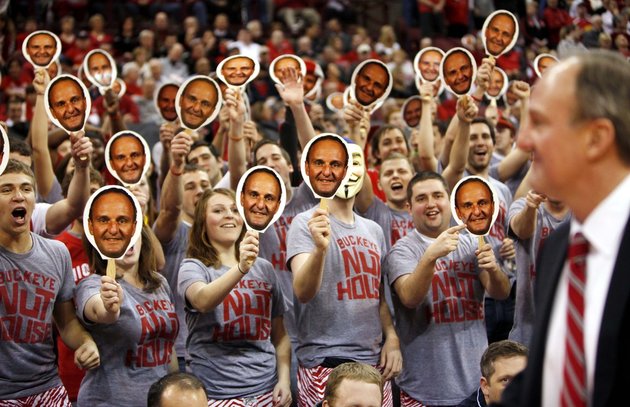 We've got a new weekly feature debuting today, called the Three-Man Weekend Weave. Each Friday afternoon, your humble host bloggers will hit on some of the teams, trends and topics for the upcoming weekend's slate of games. It's an absolutely loaded weekend, so let's get right to it.
Angevine's angles
Ohio State at Illinois
(Saturday, noon ET, CBS). First of all, Jared Sullinger is compulsively watchable, and it would be foolish to pass up any chance to see him with your own eyes. Demetri McCamey, of Illinois, is no slouch, either. This is the first real road test for the Buckeyes, and Assembly Hall is rocking and all decked out in that hideous orange color these days. I don't know about you, but that would distract me to no end, even if I was a 6-foot-9, 280-pound teenage steam hammer with the feet of Fred Astaire.
Separation Day.
Temple will head to Cincinnati to face Xavier (Saturday, 3 ET, ESPN2). Memphis visits UAB (Saturday, 7 ET, ESPN2). They may not be the weekend's most notable matchups, but they'll tell us a lot about what to expect from four tough teams from two ambitious mid-major conferences. Can Temple bounce back from a surprising loss to Duquesne? Can Xavier overcome early injury woes? Memphis and UAB are part of a
four-team logjam atop
a burgeoning C-USA, and Saturday presents a fine chance for one to pull ahead and make a statement about who's going to run this show. Also, New Mexico at UNLV (Saturday, 4 ET, Versus) and Oklahoma State at Baylor (Saturday, 4 ET, regional) fit this description.
Texas at Kansas
(Saturday, 4 ET, CBS). This rivalry was created by the formation of the Big 12, and the fire didn't get hot immediately. These days, however, it's an annual grudge match that grows in intensity each year. Kansas has won the last two, but Texas is on the rise, and you'd better believe that Rick Barnes would LOVE to be the guy who puts an end to the Jayhawks' home win streak to silence the crowd at Allen Fieldhouse.
Jones's viewpoint
Michigan State at Purdue
(Saturday, 9 ET, ESPN). This will be my first trip to Mackey Arena, as the second- and third-best teams in the Big Ten square off to determine which will challenge Ohio State for conference supremacy. This is a gut-check game for two of the toughest teams in America, as both have looked decidedly average over the last two weeks. The loser here, especially if it is the Spartans, may unexpectedly be out of the chase for the Big Ten title before we even reach the last week of January.
Kentucky at South Carolina
(Saturday, 6 ET, ESPN). Going into conference play, this was one of many SEC games a viewer could expect to skip over. But with South Carolina's wins at Florida and in overtime over Arkansas, the team now finds itself atop the SEC East. Kentucky has already dropped as many SEC games as it did all of last season and a loss here would put John Calipari's team at 2-3 with its toughest tests still yet to come. It is a must-win in Columbia in order to keep Big Blue Nation sane and John Calipari curse word-free going into an off week.
Cincinnati at St. John's
(Saturday, 4 ET, regional coverage). You know, at this point I am not sure whether I believe either of these two teams is anything but a mediocre squad with a below-average schedule. Both have beaten all the teams they should have defeated and have lost to every team against which they were an underdog. Both also fancy themselves as being relevant in the Big East, even if not a true contender. In a conference that is heavy at the top and weak at the bottom, this game determines who the best of the middle-tier teams is.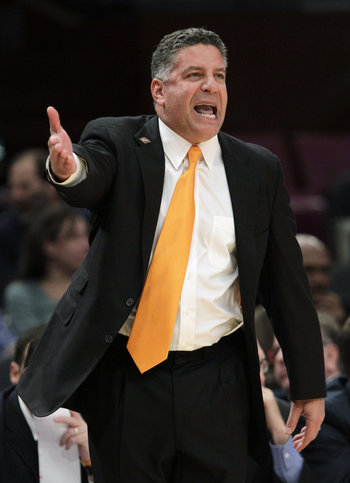 Norlander's tidbits
I'll be at Tennessee at UConn (Saturday, 2 ET, CBS) for what could be a nice game but should be a pretty awkward situation. The XL Center in Hartford should have plenty of media, despite the litany of terrific tilts across the country Saturday. I'll save the commentary on Pearl's return for my piece Saturday night, so a quick hunch about the game itself. I think it'll be sloppy, exciting at times and completely overanalyzed once it's through.
Tennessee has been very uneven this year, but they have played well away from home,
winning the preseason NIT tournament in Madison Square Garden
earlier this season. A win over UConn would make Tennessee the closest thing to a Tournament "lock" in the SEC, believe it or not.
Another battle for No. 2.
Villanova-Syracuse is a terrific noon-time tip (Saturday, ESPN). Jones spoke of the Michigan State-Purdue game being the right for No. 2 in the Big Ten. The winner in this one essentially earns the right of being the beta in the Big East to Pittsburgh. Students have
been camping out all week,
per usual, and an attendance record is expected to be set for this one.
Watch out for that trap.
A few teams that need to watch themselves on the road, lest they kill off some credibility: Richmond (at UMass); Colorado (at Oklahoma); Southern Miss (at Southern Methodist); and Louisville (at Providence). These would be hideous marks on the ledger for all the visiting teams. I'm saying at least two of them lose.
Lots of good-but-how-much-do-they-mean games.
Kansas State-Texas A&M (Saturday, 2 ET, ESPN), Boston College at Florida State (Saturday, 7 ET, ESPNU), Marquette at Notre Dame (Saturday, 7 ET, regional), BYU at Colorado State (Saturday, 9 ET, the MTN) and Arizona at Washington State (Saturday, 10:30 ET, FSN) are all intriguing and worthwhile watches, but in the grand scheme, how much impact will these have on teams' bubble chances? Little ripples, most likely.
Save Sunday for the NFL.
The only game worthwhile, if it even qualifies, is Wisconsin at Northwestern (12:30 ET, Big Ten Network), and that game got
moved up
in Evanston, Ill., to accommodate the local football team. So watch and root for the Bears, please. With 85 percent of pundits picking the Packers, we need all the karma we can get.
Photos: AP