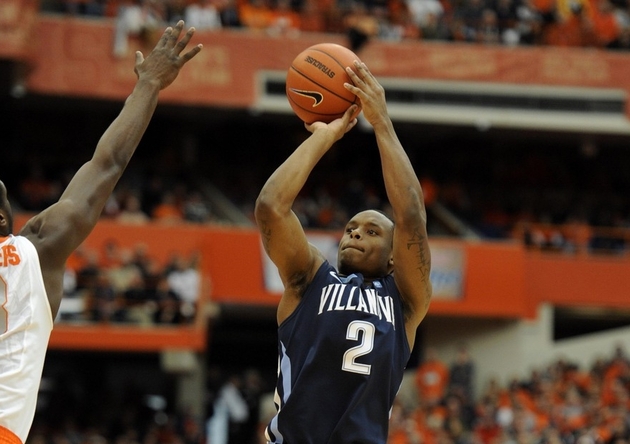 Maalik Wayns (above) scored 21 points on 6 of 11 shooting to lead Villanova's 83-72 road upset of Syracuse.

Posted by Matt Jones

Every year around this time, I start looking for my "March Five", the group of teams that I select prior to the NCAA Tournament, from which I guarantee a national champion. Since 1995, my March Five has had a near-perfect record, with only Arizona in 1997 becoming champion outside of the group. Around this time of year, I rarely pick a team to definitely be in the final five selection, but I begin slotting my provisional picks and engage in the process of eliminating those teams that I know do not have the makeup to be part of the final group.
It is with that elimination mindset that I took a particular interest in today's Villanova-Syracuse game in the Big East. With both Syracuse and Villanova losing earlier battles this week against UCONN and Pittsburgh respectively, this game had "elimination" written all over it. If a team can't beat one of their fellow conference challengers in two tries in January, then how am I supposed to predict a six game run in March?
I will freely admit that I went into the game assuming that Villanova would be my most likely candidate for elimination. When it comes to the March Five, I honestly have been anti-Villanova over the years, for one simple reason. While the Wildcats under Jay Wright have produced quality teams every season that almost always outperform their talent level, they usually have one glaring weakness (often in the post) that prevents them from navigating the various playing styles and matchups that are required to make a March run. No Villanova team has ever had the balance in my eyes to truly contend for the final prize and I suspected that after I watched the 2011 group in front of 33,000 orange-clad screaming New Yorkers, I would reach the same conclusion again.
Consider me pleasantly surprised. While most will focus on Villanova' tremendous outside shooting, which featured eight made threes and a 62% percentage behind the arc, that part of the Wildcats' performance didn't do it for me. I have watched a number of incarnations of Jay Wright's teams shoot lights out against great teams and pull off impressive road wins against programs such as Syracuse. However one-dimensional teams never make my March Five, and if all we saw was simply a group of Villanova perimeter players hitting from deep, the Wildcats would once again remain outside my list of potential contenders.
Instead, what made Villanova's 83-72 win worth noting was the play of Villanova's previously invisible front line. Antonio Pena, Mouphtaou Yarou and Maurice Sutton combined for 25 points, 16 rebounds and most importantly, showcased themselves to be legitimate scoring options worthy of attention. Syracuse saw its zone attached aggressively, was occasionally forced to double the post and Villanova shooters were able to get open looks with ease, dismantling the vaunted Orange defense in the process. The inside threat lead to a completely new wrinkle to Villanova basketball and caught Jim Boeheim and his Syracuse team completely off guard.
As I move ever closer to taking Syracuse off my list of possible members of the March Five (I will give the Orange the opportunity to salvage their membership with the pair of road games at Marquette and Connecticut in two weeks), it is time for me to slot Villanova with Ohio State, Kansas, Duke and Pittsburgh in my preliminary January edition of the March Five. For the first time Jay Wright not only has a team that can make noise in conference and beat any team on a given day, but he may also finally have a group with a diverse enough attack to win six games in a row when it matters most. In one day, the Villanova went from on the brink of elimination to temporarily slotted in my March Five. I would say that qualifies as a successful day in the Carrier Dome.
Photo: US Presswire