Posted by Matt Jones
While much of the attention of the day in college basketball has rightly been focused upon the big matchups involving ranked teams, two games a bit under the radar will have a huge impact on Selection Sunday: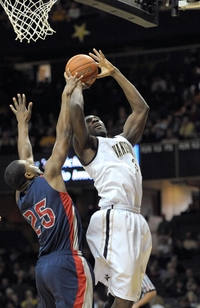 Vanderbilt 89 St. Mary's 70

The West Coast Conference as a league has improved so much over the years that its supporters legitimately deem it worthy to procure at least one at-large bid every season. At the forefront of this revolution has been Gonzaga and St. Mary's, both of which have been contenders for the past few seasons. However, today's demolition of the Gaels by Vanderbilt leaves the WCC much closer to being cemented as a one-team league. With early losses to BYU and San Diego State, St. Mary's was, prior to today, left with its best non-conference win being over a now-reeling St. John's team. A win over Vanderbilt, or even a close performance, would have looked good if the Gaels slipped up in the WCC Tournament. However, this loss likely puts St. Mary's in a situation where it can afford no slip-ups in its two upcoming games with Gonzaga and an under-appreciated Portland team. With Gonzaga's loss last week to Santa Clara and now this embarrassment in Nashville, the WCC's at-large NCAA window is closing.
Oklahoma 67 Colorado 60

Colorado came into this week as the surprise of the Big 12 and likely needing a split in two winnable road games against Nebraska and Oklahoma in order to sustain its momentum. The loss on Wednesday to Nebraska could be forgiven, but falling to the worst team in the Big 12 is not becoming of an NCAA Tournament contender. The Big 12 is loaded in the middle and when it comes to Selection Sunday, differentiating the teams could be difficult. Colorado is now 14-6, with losses to Harvard and San Francisco and its best non-conference win against an unimpressive Indiana team. The Buffaloes have six remaining games against ranked teams and the losses this week mean that it must now steal at least a couple of these games in order to secure a bid. When you are a team looking to surprise your way into the NCAA Tournament via a major conference, you have to win the easy ones, split the medium ones and steal a hard one. Today Colorado dropped the easiest one.
Photo: US Presswire