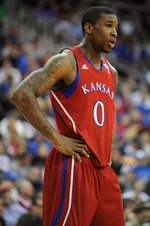 Posted by Eric Angevine


Last week, we marveled at how physically tough Seton Hall's Jeremy Hazell is, when he returned to the court just over two weeks after being shot in a robbery attempt. This week, we were stunned by the news that KU's Thomas Robinson lost his mother just hours before a home game against No. 10 Texas.
He played. He stayed in town and played. That's incredible mental toughness, especially when you add in the fact that two of Robinson's grandparents also passed away recently.
Robinson and his teammates may have been a little emotionally raw. Robinson committed four early fouls and had to sit out the entire second half. The Jayhawks struggled without his energetic presence in the second half, playing flat and blowing a 35-23 halftime lead as J'Covan Brown and Jordan Hamilton outhustled and outshot the Jayhawks to claim the Texas program's first-ever victory in Allen Field House, winning 74-63. KU's national-best 69 game home win streak came to an end, adding yet another dimension to the growing rivalry. Duke University currently holds the longest streak as a result, standing at 30 straight in Cameron Indoor Stadium.
In addition, the Kansas loss left Ohio State and San Diego State -- both 20-0 -- as the only unbeaten teams in men's DI basketball.
It was a chippy, ugly game. Rough play got out of hand, and technical fouls were assessed on Brown, Brady Morningstar, Josh Selby and Jordan Hamilton.
One intriguing development was Bill Self's decision to leave Selby in at point guard even after he had been involved in an altercation and some silly fouls. The freshman's shooting and passing were way off, and he was clearly rattled. It's entirely possible that Self placed more value on teaching his likely one-and-done lead guard a lesson that he hopes will pay dividends down the road in March than he did on a January win.
Regardless, Texas showed the type of physical toughness that could propel the team deep into the NCAA tournament this season. Hamilton led the Longhorns with 17 points and nine rebounds, and Texas' own freshman point, Cory Joseph, also had nine boards to go with his 11 points. No Jayhawk had more than six boards. UT's team defense kept KU's shooters off-balance and closed down the inside game in a historic win for the visitors.