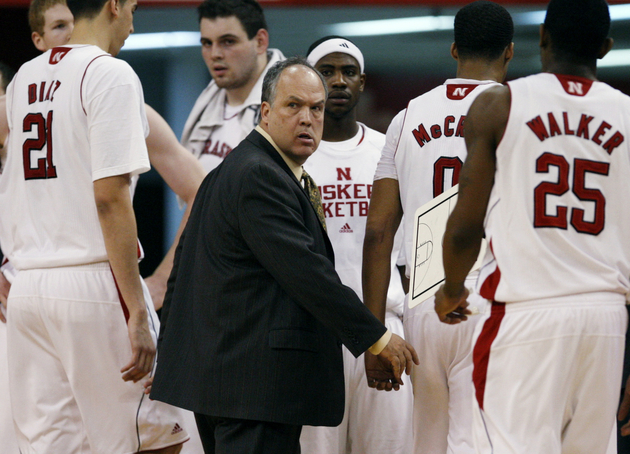 Posted by Eric Angevine

Hot Seat

Today, rather than calling out a specific coach who's dragging tail (I'll get back to that next week), I have a philosophical question for you, the reader. I hope you'll give your thoughts in the comment section.

Following this most recent round of conference roulette, several men's basketball coaches are heading to new challenges despite rather disappointing results for their programs this season. My question is: if you're making a big change already, do you let the new guy have a shot at recruiting for the next league, or do you fire him and start fresh with someone new? I'll give my thoughts on a few of those coaches below.

Doc Sadler, Nebraska - Kenneth Sadler has been Nebraska's head coach since 2006. He had a couple of nice seasons at UTEP before taking the job, and had three straight winning seasons after taking over. Those records never got him above 7th place in the Big 12, however. Last season the team fell off a cliff and ended up dead last, and this season's lineup is still wildly inconsistent, especially after Christian Standhardinger's bizarre story unfolded. As the Huskers head into the Big Ten, it's time for new management. There are plenty of current Big Ten assistants who look mighty attractive and know the recruiting grounds.

Tad Boyle, Colorado - Tad is in his first season at CU, and despite some recent stumbles, his ability to win some road games in the Big 12 is a great sign for the Buffs' chances at hitting the ground running in the Pac-10. Obviously, you stick with this guy and see what he can do.

Jim Boylen, Utah - Boylen is probably the toughest case here. He has been a top assistant with the Houston Rockets and Michigan State Spartans, but his record with Utah is not great. He has one NCAA appearance in four seasons in the Mountain West, and he's currently clinging to a perfect .500 record: 10-10 overall and 3-3 in conference. Boylen may be able to make hay with recruiting now that this team is moving to greener pastures, so unless there's a home-run hire out there this summer, I think I'd stick with him and give him a chance.

Of the WAC teams that are moving on, I'd say everyone but 6th-year Fresno State head coach Steve Cleveland is safe.

Thoughts? Wishes? Coffee-fueled rants? Deposit them below.


Quotable Coaches
"When they see Georgia Tech on the shirt, if they are open, it's going in. I promise you. At halftime, I was thinking, 'seven for eight.' You can put teams in a gym by themselves that wide open, and they are not going to make seven out of eight."

-Yellow Jacket head coach Paul Hewitt talks about his team's perimeter woes after Virginia shot 66.7 percent from deep to earn a 72-64 win.
"I really think the single biggest stat in the game was Tristan Thompson's five blocks. Those were all huge plays."

-Rick Barnes credits defensive effort in Texas' streak-snapping road win over Kansas
"I don't know why Jordan got one. I don't know why Marcus got one. I don't know why J'Covan and Josh got those at the end. Gosh dang, I mean, there's more dialogue with negative with this guy talking to his best friend than some of those things."

-Bill Self reacts to the four technical fouls called in Texas' upset of Kansas at Allen Fieldhouse
"He kept shanking the ball, and he kept blaming the clubs. And the clubs are all bent up. We had a heckuva time. There were a couple of Humvees 150 yards away. That's what we were aiming at. There were no flags. You had to hit the anti-bomb craft."

-Dayton coach Brian Gregory recalls a round of golf he and Fordham head coach Tom Pecora played with troops in Iraq two years ago
"When Kevin first approached me on it, I said to Kevin, 'I'd rather not make that call. I'd rather you stay put. I think you have a great team at Iona and I'd rather you stay put and wait.' My first conversation with him was discouraging."

-Rick Pitino explains how he tried to talk his former assistant Kevin Willard out of taking the job at Louisville's Big East rival Seton Hall
"We just can't score."

-Auburn head coach Tony Barbee puts his finger on the problem that has Auburn winless in the SEC
"We thought it would be good for our guys to pay respects to the people that dug the well for this program, so to speak,"

-Sidney Lowe describes his team's visit to the gravesites of legendary N.C. State coaches Everett Case and Jim Valvano.
"For me, he's the hardest cover since Ike Diogu was at Arizona State. We just really tried to find ways to get Ike locked up in a closet before we played them or something. He was such a difficult to cover, and Derrick Williams is becoming just like that. He's hard to deal with."

-Washington head coach Lorenzo Romar heaps praise on Arizona star Derrick Williams

We also have a couple of links to some longer videos that offer some insight into coaching at the mid-major level. The Sioux Falls Argus Leader has video of Fort Wayne coach Dane Fife after his team took a tough road swing through the Dakotas. AExtra has a nice look inside the coaching life of Boston University's Pat Chambers.


On our video today, we hear from legend-in-the-making Thad Matta, discussing his team's ascension to 20-0 on the season.