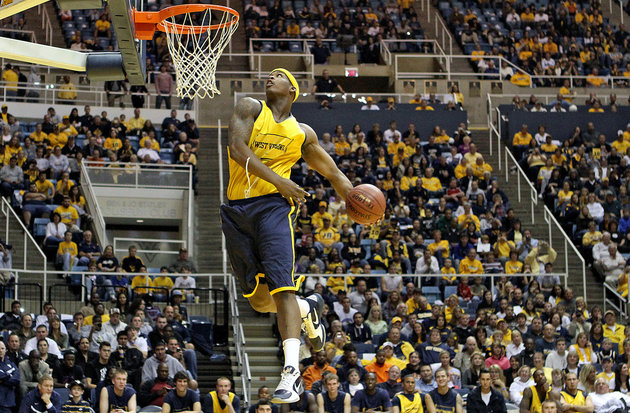 Posted by Matt Norlander
West Virginia (13-5, 4-2 in the Big East) is hardly having a bad year, but it's one that's not inducing many people to talk about the program in the wake of its Final Four run last season, even after that great win over Purdue eight days ago. The loss of Da'Sean Butler, Devin Ebanks has contributed to that.
Well, now there's something we can discuss: How often does a player leave his team ... in the middle of a game?
Danny Jennings, here's your close-up. The
6-8 sophomore role player
for the 'Eers did not play during the first half of Sunday's 56-46
West Virginia home win
over South Florida. He was one of six Mountaineers who didn't see the floor, but the only one who decided just up and quitting was the solution to his problems. Jennings went into the locker room for halftime, came back out for a few minutes, but then bolted on his team
with 18 minutes remaining in the game.

When asked about the little-used Jennings, Huggins said the player's exit was "unexcused, inexcusable. Never to be seen again, I guess."
That's a cold quote by Huggins, who added Jennings' production and presence on the team was "a sidebar." (You can watch the monotone
Huggins address this situation right here.
) More from the WVU coach, who wasn't all that interested in talking about his "nonentity":
"I understand that you have to report it and that's fine, but can we talk about the guys that play?" Huggins said. "Because he didn't play anyways and hasn't played. The truth of the matter is that he's been a nonentity. We started him to try and get some other guys motivated and he did work hard in practice for a while, but look at his career stats."
Jennings' career stats: 2.1 PPG, 2.5 RPG and 8.6 MPG. My man, Jeff Eisenberg,
points out
this now leaves WVU with only nine scholarship players to work with. West Virginia's currently in sixth place in the Big East. There's room to move up, too. This team isn't going to win the regular-season title and has a Sweet 16 ceiling, but is this a good thing? Could very well be.
I had no idea of Jennings' relationship, or lack thereof, with Huggins until last night, when I came upon this story. But player-coach friction, while it exists in many locker rooms, reaches a point of annoyance and distraction with teams when it extends beyond the occasional blow-up in an office or on the practice court. The nine-scholarship-player scenario here won't be an issue; Jennings wasn't helping much before.
Suddenly, West Virginia's interesting, and perhaps a little more focused as a team because of this.
One last thing to consider. Bob Huggins, Frank Martin, two guys cut from the same cloth; Martin's a protégé of Huggins. Yet, does it feel like these guys' teams are tuning their coaches out? Just something I'm tossing out there. Could be off-base, but at a certain point, the intimidating act just wears players out, usually much more in the pro game than college.
Photo: AP