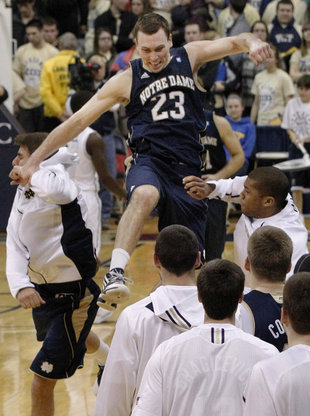 Posted by Matt Norlander
The country was waiting for Notre Dame to legitimize itself.
Defeating No. 2 Pittsburgh on the road, in the Petersen Events Center, a place the Panthers seldom lose, is as legitimate as the plane ride the Steelers earned to Dallas Sunday night. The Irish were perfectly OK playing a slow game against highly efficient Pitt, defeating the Big East's highest-ranked team 56-51 Monday night. They did it in a molasses-like 48 possessions, easily the lowest and slowest game in the conference this season.
"That's music to my ears, because that was our goal," Irish coach Mike Brey said of the 48-possesion game from the team bus. "We have not burned it for a whole game but we went into this burning the whole night. We did that to them last year, in the Big East tournament. We watched a little bit of that tape last night just to remember."
It was Notre Dame's fourth win against a ranked team in this 2010-11 campaign. Last season, it took until the second round of the Big East tournament for Brey's team to get four Ws against ranked opponents. None of those wins were as impressive or methodical as what his team did tonight on enemy maple.
"I talked to our captains before we left on the bus, I had them up to my room, and told them I need four for four in terms of fighting and competing," Brey said.
Senior starting point guard Ben Hansbrough — he of the no-longer-an-afterthought variety and younger brother to college immortal, Tyler — was caught by ESPN's cameras eagerly embracing his head coach once the handshake-line formality was through. Hansbrough (right) led his team with 19 points and 7 assists. He's taken on the role of being a point guard in his senior year and played beyond what many expected of him. It could be the biggest reason this team is now 17-4 and 6-3 in the most difficult conference in the country.
How's he managed playing the 1 in his final year of college ball?
"Coach has done a great job at slowing down my tempo," Hansbrough said over the phone just minutes after he walked off the floor. "And I think, instinctively, I've always been a guy who can get in there and find people, especially in the lane."
"Maybe as much as what he's doing with his basketball is how he's leading us," Brey said of his senior point guard. "He made us believe. His decisions with the ball, tonight was a great example, but he did the same things Saturday night. His play has been contagious."
The most important thing about Monday night for Brey's team: It was the first road win in four tries this year for the Irish. Funny how the first comes at what's statistically been the hardest place to snag a W in the past eight years in the Big East.
"What a lot of people don't understand, for two of those road wins, we were without Carleton Scott," Hansbrough said.
Despite the fact normally reliable deep threat Tim Abromaitis didn't make a field goal, Hansbrough and Co. overcame Abromaitis' bad night, mostly due to the return of Scott, a senior forward. He had his most productive game since coming back from a hamstring injury, scoring 16 and making 5 of 6 shots from 3-point range, adding nine rebounds in the process.
"Carleton — when he came back to practice a week ago Monday, he really lifted the whole building up and lifted Ben up," Brey said. "Ben missed his voice. Carleton and Ben are the most vocal guys of our captains."
Hansbrough deflected talk and questions about his play, choosing instead to shine a light on Scott's play and the coaching staff's pinpoint scouting of the Panthers.
"Coach Brey came in here with a great, great game plan," Hansbrough said. "We didn't even try to get a shot off until there was 10 or 15 seconds left on the shot clock. Having Carleton back is a huge key for us. He gives us a lot of heart; you can't teach or coach it. It's something you have or you don't."
The Irish kept Pitt who, again, has been extremely efficient on offense (the very best, in fact) this season, to a season-low 51 points and 44 field goal attempts. The praise of Notre Dame's effort and execution, with repeated emphasis that this came on the road, can't be overstated. Why's Notre Dame been able to do this, to be one of those quintessential Big East teams who surprises many and streaks near or to the top of the conference? Hansbrough did his best to explain before being swept away to talk to local media on the scene in the Steel City.
"I would say we have lot of guys, maybe the best team that plays together in the country — we're right up there with Duke in terms of sharing the ball and playing as a unit," Hansbrough said. "This could be the jumpstart for some more [good] teams we could beat down the road."
Brey will give the team two full days off while he goes on the road for recruiting. The Irish don't play against until they're at DePaul on Feb. 3.
"I love the gap in schedule we have right now. We could use a little bit of rest," Brey said. "And we're older, it's not like our veterans need two hours of practice each day."
Such a shame, this long break. The country needs to see more of the Irish as soon as possible.
Photo: AP