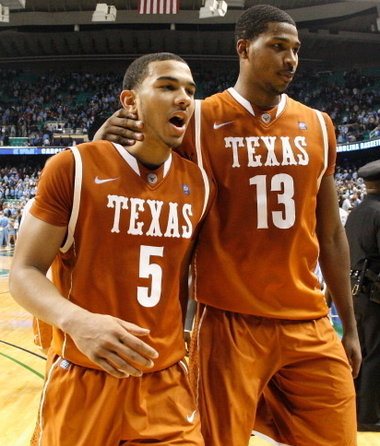 Posted by Matt Norlander
Some are waiting for a Longhorns coda. The fallback to a state of dismay and fraudulence, like what the 2009-10 Texas team put on display.
Such a wait, this season, now seems foolish. Texas got its biggest win of the season over the weekend,
beating Big 12 bully Kansas
in Phog Allen, ending the Jayhawks' 69-game home winning streak.
With that win, many rightly thought, OK, so Texas is really, really good; some still want to see this team get through February without many stumbles. That's fair.
But now we have evidence why Texas will probably remain consistent and an intimidating scout job for the next five weeks, perhaps even beyond that. It came yesterday, when Basketball Prospectus' John Gasaway doled out his annual
Tuesday Truths column.
The piece sized up the efficiency margins of every team in the top 14 conferences, according to Ken Pomeroy's ratings. (If you need a rundown on the meaning and importance of efficiency margin,
do go here
for all your needs.)
The numbers about Texas weren't so much surprising (though there's a dose of that) as they were legitimizing. No other team has an efficiency margin as strong as the 'Horns, which currently checks in at a wowsa-like +.32. The second-best team is Saint Mary's, at +.29, and Xavier's +.26 is good for third-best. Texas is currently sitting in the subjective
KenPom.com power ratings
at No. 4, with room and schedule accomodation for further vertical movement.
Basically, what this comes down to: Texas, on a per-possession basis, is scoring at a higher rate (1.16 points per possession, a very prideful number) while keeping opponents' scoring production at a contrasting minimum (.84 points per possession).
Rick Barnes' team is among the top 10 in points per possession in the 14 strongest leagues. Saint Mary's, at 1.23, and Xavier, at 1.22, are the tops, helping them in overall efficiency margin rankings with the likes of Texas. But neither of those teams are as defensively staunch as the 'Horns, especially considering Texas' in-conference schedule now provides a tougher collective set of opponents than the aforementioned two.
If you haven't already, wipe away that bias and conceived notions about Texas. It looks like they'll be in the fold from here through Selection Sunday. Texas plays tonight against Oklahoma State on the road. With all this said, please don't make me look back, UT.
Photo: Getty Images