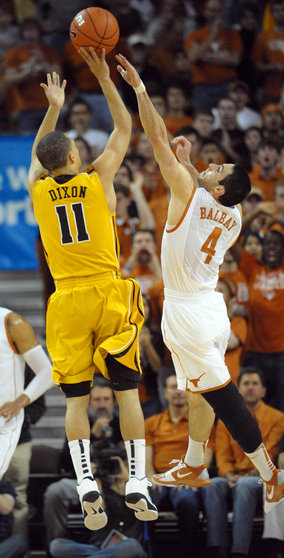 Posted by Matt Norlander
We'll get to the wrap-up of today's crazy happenings in a little bit.
Before that, though, another post
dedicated to Texas,
the team that didn't fall prey to an upset on a day positively littered with them.
You need no further evidence than to look at what the Longhorns did to a good, fast-paced Missouri team tonight. Entering the game, the Tigers' previous 10 point totals were such: 87, 75, 89, 77, 76, 98, 81, 97, 75 and ONE HUNDRED AND SIXTEEN. But tonight? A wimpy 58
Seems everything's smaller in Texas.
The
Longhorns won by 13
in a game that was one of the most anticipated of the day. Just didn't turn out that way. Those locked into games tonight around the country found themselves more involved in Pittsburgh-Rutgers and West Virginia-Cincinnati than the underwhelming television product that was No. 11 Missouri vs. No. 7 Texas. Silly Saturday.
Dogus Balbay (right, defending Michael Dixon's shot) and the Texas D held Missouri to .85 points per possession tonight. Once again, Rick Barnes' team made its opponent march on/near that season-average points-allowed line, which is at .84 for the year. And this was with seven steals and only one blocked shot, yet 15 forced turnovers. Just some ridiculous D in Austin.
It's now getting to the point where people believe
Texas is in 1-seed
territory. That's hard to argue.
Do you consider 18-3 Texas on the same level as undefeated Ohio State and one-loss Kansas and Duke? You probably should start.
Missouri's a team capable of making the Elite Eight, and they were completely ineffective tonight. I'm not sure how Barnes has managed to coach this young team into this spot, but it keeps climbing higher and higher.
Photo: US PRESSWIRE