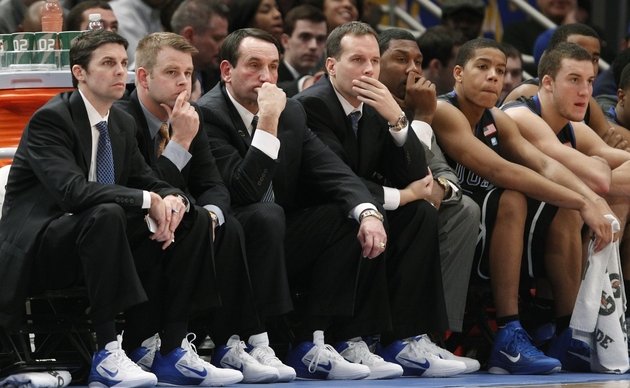 Posted by Matt Norlander
I was wondering if the Internet would current its way to this sort of thinking in the wake of the Devils' bad loss at St. John's yesterday. Yes,
suddenly debating,
even hating, on
Duke's 1-seed credibility
is
so hot right now.
Are we this desperate to knock the Devils? Are we this bored on a Monday? Or is this a legitimate topic of debate? I think it's all three, but I'm still a bit surprised this has become a mini movement on a Monday at the end of January. A perennial college basketball powerhouse, a two-loss team in 2011, is now in jeopardy of losing a 1-seed!
Even if that's so as of
now,
it's probably not going to be the case going forward. Duke resides in the
so-so ACC,
the precise double-edged sword of a reason the Blue Devils will wind up atop a quadrant when the brackets are released 41 days from now. Win-wise, the conference isn't going to help Duke's power numbers like a Big Ten, Big East or Big 12 team (Ohio State, Pittsburgh, Texas) will be rewarded by the Selection Committee. But also consider: those conferences are tougher, and Ohio State, Pittsburgh and Texas will certainly lose multiple games going forward.
I don't think Duke will.
You think there's any chance at all a Duke team with a "3" or a "4" in its L column come March 15 isn't getting a 1-seed?
Maybe K's guys get picked off one more time on the road; no way is an angry Blue Devils squad losing on the road Wednesday at Maryland, right? Perhaps the pick-off comes in the season finale at UNC. If you want another, say Duke loses in the ACC conference tourney title game, three hours before the brackets are released. Like that's going to matter.
All the aforementioned teams, plus others such as Kansas and Kentucky, have/will have more chances to rack up higher-quality wins than Duke (though Temple-Duke will give the Devils another decent non-con win on Feb. 23), but there remains plenty of landmines in Big Ten/Big East/Big 12 conference play, too. This past Saturday was enough evidence to legitimize the entire landscape of this season in college hoops.
With the ACC being as ordinary as it is, do you envision Duke getting taken down more than two more times? An absence of bad losses for the Blue Devils could be as valuable as an abundance of good losses for its 1-seed-worthy brethren. Plus, it's not as if we've got a horde of teams that are credentialed to be considered for the 1 line. Duke is one of nine. The Devils should still be in the mix when that number's closer to six after Valentine's Day.
And I believe the Selection Committee will have a very hard time keeping an at-worst four-loss Duke team (that's my guess for its end-of-regular-season loss tally) off the 1 line. History has shown Duke's been given the benefit of the doubt, acknowledged bias or not, when it comes to making the cut atop a given region's bracket.
Barring behavior that resembles what Butler, Michigan State and Gonzaga have done this season, Duke's more than likely going to navigate its way back into a 1-seed, even if it's considered a level below as of today.
Photo: AP