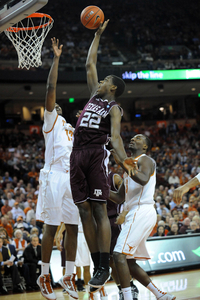 Posted by Eric Angevine


We've heard a lot about the Pac-10 having a down year, and the ACC not really being up to scratch, but the Big 12 has been a disappointment as well. Baylor, Missouri and Kansas State have been ranked, but hardly dominant. Colorado showed a flash of life that quickly evaporated. With Texas and Kansas atop the league as usual, Mark Turgeon's Texas A&M squad looked like the best bet to make it a three-team race. Losing to Texas on the road was nothing to be ashamed of, but Saturday's stumble at moribund Nebraska was a puzzler.
The Aggies have dropped to No. 16 in today's polls, and the weak showing by the conference at large gives them precious few remaining opportunities to recover their mojo. Tonight is a huge one, as the Longhorns travel to College Station for the rematch of the January 19 game in Austin, which Texas won 81-60. There's no such thing as an easy road trip in the Big 12, and that goes double for this rivalry game in the underrated environs of Reed Arena.
Khris Middleton (right) was the most effective Aggie in the earlier loss, putting up 16 points. Jordan Hamilton led the UT scoring, laying 27 points on a team that was ranked in the top ten at the time. Freshman big man Tristan Thompson also scored in double figures, so A&M's task tonight is clear: stop the Longhorn forwards.
Easier said than done. Just ask Kansas, who ripped off a big early lead against the Longhorns in Allen Field House before Hamilton and Thompson began to find the range. J'Covan Brown had the biggest performance that night, playing 29 minutes and scoring 23. It's a performance he has been unable to repeat since, having scored a combined ten points in 30 minutes of play spread over Texas' last two games.
So, it's the interior defense, then. A&M doesn't block a lot of shots, but that's just the eye-candy part of defense. An opportunity lurks in the ability of Middleton and David Lobeau to draw fouls, which both players do well. If Texas is forced to become tentative inside, A&M plays the lock-down perimeter defense to tilt the game in their favor. Surprisingly enough, A&M has the Big 12's most efficient offense; they should provide a stiff test for the league's -- nay, the nation's -- best defense.
If A&M notches the win, their at-large profile gets a huge boost toward a top-four seed. Then the mission becomes to separate from the league's fading squads and saddle up for one last big shot at Kansas on March 2.
The campaign for greatness begins tonight, deep in the heart of Texas.

Texas will play at Texas A&M at 9:00 p.m. tonight on ESPN

Photo: US Presswire