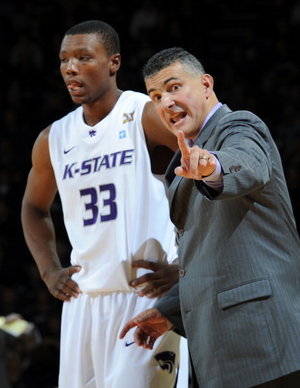 Posted by Matt Norlander
Sorry to be so blunt, but can I suggest, with the news of McDonald's All-American
Wally Judge jettisoning the Wildcats,
we now leave this team to rot in peace?
The
Kansas City Star
was the first to have the news; Kellis Robinett got K-State coach Frank Martin, briefly, on the record.
"Wally quit the team today," Martin said. "He's not happy. I kinda saw it coming because of some of his emotional situations. He just has not been enjoying it.

"He told me today that he thinks it is time for a change."
So now, no more what's-wrong-with-Kansas-State stories. No more how-it-can-be-turned-around columns. No more Frank-Martin's-coaching-style-is-high-risk-high-
reward comments. No more lamenting a season that never arrived.
It's officially a lost year, and I think we've all got better things to do than harp on a team who hit a streak of bad luck and couldn't bottle the magic from a year ago.
Unable to bloom into a feared player in the Big 12, Judge, a
sophomore forward
(right, with Martin) who was averaging less than 6 points per game, wasn't "happy" — on that team right now, who is? — and so he became the latest defect from a program in mid-season. (This is an issue that needs a full-on investigation and dress-down, but that's for another time.)
Judge leaving the team comes just more than two weeks after
Freddy Asprilla chose to pack his bags.
It's chaos in the Little Apple of Manhattan, Ks., and while those remaining on the team are no doubt trying to fight through this and make a run, surely many of them are thinking, in the back of their minds, how quickly they need this nightmare season to end.
We wanted Kansas State to be good this year. It is a fun team with characters that catalyzed a change of pace in the often business-as-usual Big 12. The Wildcats had a lot of pieces coming back, plus that coach, Martin, whose fiery eyes are made for television cameras and easy columns. How nice it would have been to see the Octagon of Doom be a factor again.
From a No. 3 ranking in the AP poll at the start of the season to, now, an afterthought. The Wildcats are done. They just are.
At 2-5 in the Big 12
with road games left against Iowa State, Colorado, Nebraska and Texas, not to mention home ones against Kansas and Missouri, clawing to .500 in the conference is asking too much.
That means reaching the NCAA tournament is now asking too much. Let's lay off this team, allow it to finish its season off in the shadows and wait to see how Martin will rebuild the program next year, when Curtis Kelly and Jacob Pullen are gone.
Photo: Getty Images