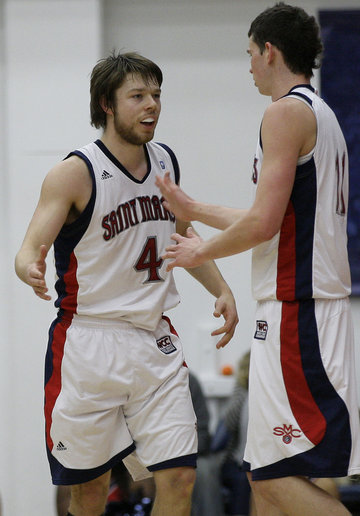 Posted by Matt Jones
One of my favorite events of the college basketball season is Bracket Buster Saturday, when fans of major conference teams get a chance to watch all of the best mid-majors in a series of created matchups designed to teams a chance to improve their March resumes. On Monday, ESPN announced the pairings that would get a national television showcase:
Friday, Feb. 18
7 p.m. - VCU at Wichita State
9 p.m. - Kent State at Drexel

Saturday, Feb. 19
11 a.m. - Hofstra at Wright State
1 p.m. - Austin Peay at Fairfield
3 p.m. – Iona at Liberty
5 p.m. – Missouri State at Valparaiso
5 p.m. – Vermont at Charleston
7 p.m. – George Mason at Northern Iowa
9 p.m. – Utah State at Saint Mary's
11 p.m. – Montana at Long Beach State

Sunday, Feb. 20
1 p.m. - Cleveland State at Old Dominion
With the possible exception of Kenneth Faried and Morehead State, the nationally televised portion of Bracket Buster Saturday generally includes all the right teams and virtually all the mid-majors with a chance to make March noise will be on our television sets that weekend. For those of you who prefer to have a weekend not dominated by mid-level college basketball or feel that you will have to "spend some time with my family," here are the four can't-miss games in order of importance:
Utah State at Saint Mary's
Without question, the marquee pairing of the Bracket Buster weekend takes place in the Bay area suburb of Moraga, California, where the Gaels will host Utah State for a Saturday primetime affair. For both teams, this game represents the best chance remaining to get a resume-building win for March and a victory is extremely important. Utah State is currently 20-2 and ranked No. 21 in America, but it suffers from a serious lack of impressive wins. The Aggies only two games against solid opponents resulted in its two losses (BYU and Georgetown) and the most notable victory may be over a sub .500 Utah team. As for St. Mary's, what looked like a solid at-large resume has taken a big hit with double-digit losses to Vanderbilt and Portland in the last ten days. If the Tournament was selected today, both Utah State and St. Mary's would likely barely find themselves in the field, even if they slipped and were upset in the conference tournament. But success in a few weeks is not assured and for the winner of this feature game of Bracket Buster weekend, the margin of error for the rest of the regular season will be a bit greater.
George Mason at Northern Iowa
The battle of the last two mid-major teams to get the nation's collective blood racing in March (Butler has joined Gonzaga in permanent non-mid major status in my book), represents the best chance for a team to win its way into at-large status of any game in the weekend. George Mason is locked in a three-way battle in the ultra competitive Colonial League with VCU and Old Dominon and the three teams are trading losses that will hurt on Selection Sunday. Thus, Mason likely needs a road victory in Cedar Falls in order to make its best case for a trip to Dayton as part of the "First Four" in March, not only for its team, but as a sign of the overall strength of the Colonial as well. As for Northern Iowa, the Panthers played their way back into the Missouri Valley race with a road win at Missouri State last week. While they likely need to end the season with an undefeated streak to get in the at-large discussion, the schedule does set up favorably to potentially pull off a surprising second straight MVC title run.
VCU at Wichita State
Virginia Commonwealth is on pace to get a rare at-large bid out of the Colonial, thanks to an impressive start in conference and a non-conference slate that includes a victory over UCLA. The Rams sit 10-1 in the Colonial and if they keep on the same pace, a win in heart of the Missouri Valley could be enough to ensure a trip to March Madness, regardless of what happens in the conference tournament. As for Wichita State, early season victories over Virginia and LSU, combined with competitive losses to UCONN and San Diego State, mean that the Shockers would be dancing if Selection Sunday were this weekend. They still have the heart of their Missouri Valley schedule ahead, including tough road games at Northern Iowa and Missouri State, meaning it is important to hold serve at home. Both teams in this game will likely be a part of the field of 68, but assuming they stay on their same path, the winner can go ahead and set up the camera shot for the CBS special with confidence.
Cleveland State at Old Dominion
Cleveland State is currently leading the Horizon League and is situated at 20-3, right on the bubble of contention for an at-large bid. The Vikings are led by the best player that no one ever mentions, Norris Cole, who is averaging 20 points, 5 rebounds and 5 assists from the guard spot. The problem Cleveland State faces is its lack of top-quality victories over a non-Horizon opponent. A win at Old Dominion takes care of that weakness on its resume. As for the Monarchs, they sit third in the Colonial, but probably have the best set of wins of any participant in the Bracket Buster Weekend. Old Dominion has defeated Clemson, Xavier, Richmond and Dayton, while two of their five losses were to Georgetown and Missouri. If ODU gets anywhere close to the bubble, the Selection Committee will likely give them the nod, solely because of this out of conference work, and a victory over Cleveland State would only firm up their prospects even further.
Photo: AP