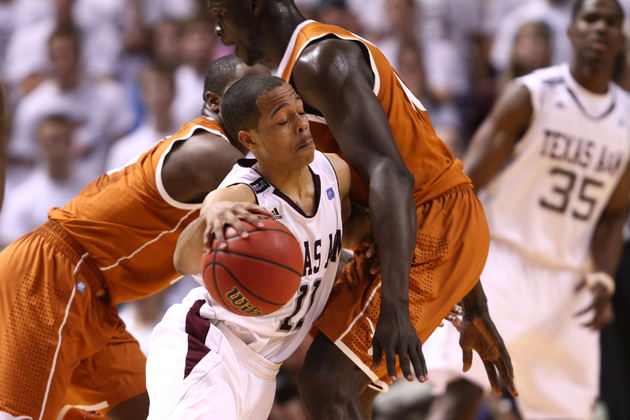 Posted by Eric Angevine


This is what Texas was supposed to be last year. Sometimes chemistry takes a season off.
However they got here, the Longhorns are a Final Four team this year. The 69-49 destruction of No. 16 Texas A&M in College Station just nine days after a similarly fruitful trip to Lawrence removed all doubt.
There are stars here, but they play as a team, and that's where the chemistry comes in. It was on display throughout the blowout in A&M's Reed Arena.
Some examples:
Team Defense:
Aggie shooters found it nigh impossible to break free, no matter how many screens they ran their orange-clad tormenters through. Especially difficult to shake was point guard Dogus Balbay, who was hampered by a knee injury last year. On the rare occasions when Balbay was scraped off of his man for a split second, a teammate would pick up the opposing ballhandler until the senior from Turkey could recover. The team D was absolutely astounding.
Passing:
They fed the post. They reversed the ball with alacrity. They ran flawless transition. They broke the A&M press. It was like watching a team-wide Vulcan mind meld in action.
Depth:
Matt Hill and Alexis Wangmene are seldom seen for Texas, but they are absolutely crucial to a long run in the postseason. The upperclassmen provide Rick Barnes with big bodies who can spell the starters, which could come in very handy if Tristan Thompson or Gary Johnson gets in foul trouble. Each player made his mark in the beatdown of A&M, with Wangmene adding 5 points and 2 blocks and senior Hill leading the Longhorn rebounding effort. Brown and Florida transfer Jai Lucas provide similar insurance in the backcourt
Bench Leadership:
J'Covan Brown was a big part of UT's problems last season, and he hasn't completely shaken his tendency to make boneheaded plays. In the first half, with his team up twenty, Brown flipped a no-look pass behind his back that was intercepted and turned into a transition bucket for A&M. Barnes yanked him off the floor, and Brown started to pout. Senior Gary Johnson clamped an arm around Brown's shoulders and pulled him into the next huddle for a teaching moment. It was an instinctive moment that worked: Brown got his head back in the game and ended up with 8 points.
Killer Instinct:
The Longhorns never let up. It's pretty common to see the gap close on a blowout in the final five minutes as the leading team relaxes a bit and the trailing team starts drilling three pointers. Duke's sudden three-point explosion at St. John's on Sunday is an example of the phenomenon. No such thing happened in Reed Arena. The men in burnt orange continued to close out on shooters in the final minute. In short, Texas choked the life out of A&M calmly and methodically on Monday night.
With Jordan Hamilton playing the starring role, and the rest of the team forming an impenetrable phalanx behind him, it's difficult to imagine a Final Four without Texas.
Photo: US Presswire