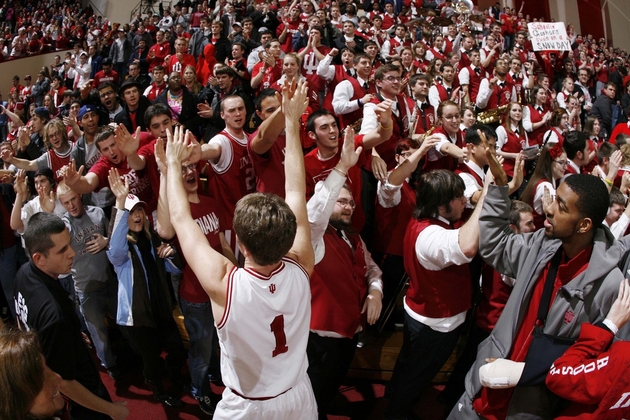 Posted by Eric Angevine


Are hints of Assembly Hall magic enough to keep diehard Hoosier fans enthralled?
Tonight's 60-57 upset of No. 18 Minnesota, hard on the heels of an OT loss at Michigan State and a home win over a ranked Illinois squad, definitely gives the pollyannas a bit of a rush.
The Hoosiers have already lost seven games in league play - they're not going anywhere in the league standings or the postseason, but Tom Crean's ability to keep his kids playing hard in the middle of another lost season is impressive. It's one of those things that makes me believe that the turnaround is still coming along just fine (
ssshhhh, don't tell Matt Jones I said so
).
With five-star prospect Cody Zeller coming into the fold next year, it seems vital for the Hoosiers not to show any quit. Giving up and letting the season go to the dogs could have caused Zeller -- or, worse yet, one of the three four-star recruits who have verbaled for 2012 -- to back away from the program.
Right now, I'd have to say I'd rather be playing at Indiana than Northwestern. Both teams are 3-7 in league play, but the Wildcats seem to be plodding along as usual, while the Hoosiers are heating up against all odds. Crean still has plenty of fans in Bloomington who realize that it takes time to rebuild a shattered program, and recognize the important steps he's already taken to change the culture (or return it to the place it occupied during the glory years).
Indiana won't be a tourney team this year. But they are a player in the Big Ten, because they are exposing pretenders to the throne. If Tom Crean's boys can beat you while being held together with spit and baling wire, do you really belong in the Big Dance?