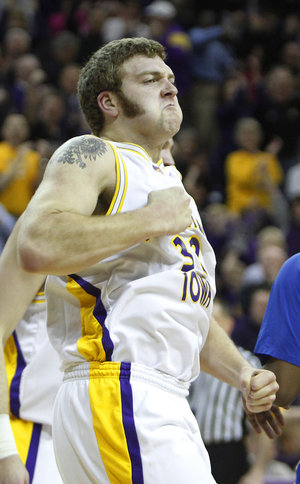 Posted by Matt Norlander
Northern Iowa just lost one of its starters.
College basketball just lost one of its best names and facially follicled characters.
Panthers head coach Ben Jacobsen, according to
PantherMania.net,
told KBGG radio is Des Moines that senior Lucas O'Rear will sit out the rest of the season with a broken ankle.
"He's going to have surgery this afternoon," coach Ben Jacobson said this morning. "He's got a small fracture in one of the bones in his ankle and the recovery time is 2-3 months."

"He's extremely disappointed," Jacobson noted of O'Rear, also a minor league baseball player. "You know, any time you're in the middle of something - especially as special as we've got going, that kind of news is hard. He's obviously put everything he's got into the program over the last three years. So it's tough. That's extremely disappointing."
Before we go any further, let me state that O'Rear playing baseball just adds to his aura. Here's one of the truly under-appreciated characters in college basketball ... and he can toss the hide. O'Rear was
drafted by the Reds
last spring. Very cool.
Now, which ankle needs surgery remains unknown, but that's beside the point. He got hurt in last night's UNI game against Illinois State — a 53-51 win. UNI, which stumbled out of the gate to start the 2010-11 season (a 4-3 record on the heels of that Sweet 16 run last year, of course), had found its groove as of late, winning eight straight and climbing to within one game in the win and loss columns of Wichita State in the
Missouri Valley.
The team is still very much in the hunt to fight for a bid to dance in six weeks, but this alters things just a bit.
O'Rear's love from fans stemmed more from his emotional play on the court, his name and his epic sideburns than this play. The Panthers senior averaged 6.9 points and 5.7 rebounds per game.
Per possession, he was the
fifth-most valuable
player for Jacobson. On a chemic level, O'Rear's value was at the top of the chart.