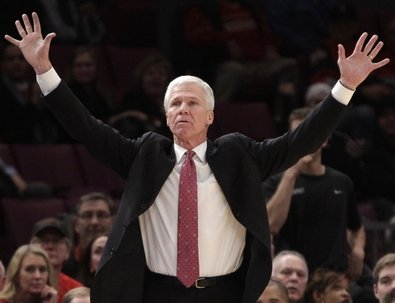 Posted by Matt Norlander
It's not often — in fact, it's happened maybe only a handful of times in the past few decades — when a program decides to go out of its way to tell fans to stay away from a game.
But that's exactly what went down in Birmingham, Ala., last night, as Samford sent out a public address announcment stating, "Due to the ice and sleet in the Birmingham area Thursday, Samford's Southern Conference basketball game against Davidson, which is still slated to begin at 7 p.m. (CST), will now be a closed-door event."
And so, even though anyone who insisted on showing up despite the skittish travel conditions was allowed into the Pete Hanna Center, a Thursday-night game (Davidson won, 62-49, by the way) in the Southern Conference between sub-.500 teams had the atmosphere of a glorified practice.
Or did it?
"No, not at all," Davidson coach Bob McKillop (right) told me over the phone late Thursday night. "Obviously there was no home court advantage for Samford because the crowd (wasn't there). If anything, they suffered from not having their band there, their student section there, their supporters."
Ironically, the game is receiving some national attention because of the circumstances, yet McKillop told me last night he didn't spot any local media in the building (though the Birmingham News was definitely in the house). He also estimated, teams, officials and building personnel included, that about 250 people made it out to see the game. Davidson had "about two dozen" brave the weather. I spoke with McKillop as he was travelling back to the hotel on the team bus. Davidson's flight was cancelled due weather conditions, so it had to spend an extra night in Birmingham.
"It's gotten progressively better," McKillop said. "The temperature has warmed up somewhat. I think it was at its worst at about 4 p.m. this afternoon. My suspicion is … because of the ice, at 4, traffic was so completely backed up, they thought it would get worse and worse through the night. It did not get any worse, though."
His players were upset, partly because the conditions were improving as the night went on, according to McKillop, and also because many were feeling anxious over missing class time on Friday.
"They heard in the locker room they weren't leaving, this was after the game, and they players were pleading about how they had presentations and classes to be at," McKillop said.
Davidson didn't know of the public service announcement until it arrived at the arena around 4:30 p.m., local time.
"A closed event? I didn't even know what that meant," McKillop said.
The conditions seemed to clearly benefit McKillop's team, which won its third straight in the SoCon and improved to 4-7 in the standings.
"Being able to talk, defensively, and the emptiness of the arena allowed that talking to be more pronounced," he said.
Davidson plays at home against league-leader Chattanooga Saturday; Samford on the road against basement-dweller Georgia Southern. Temps are expected to be in the low 40s and with mostly sunny skies.
Photo: AP