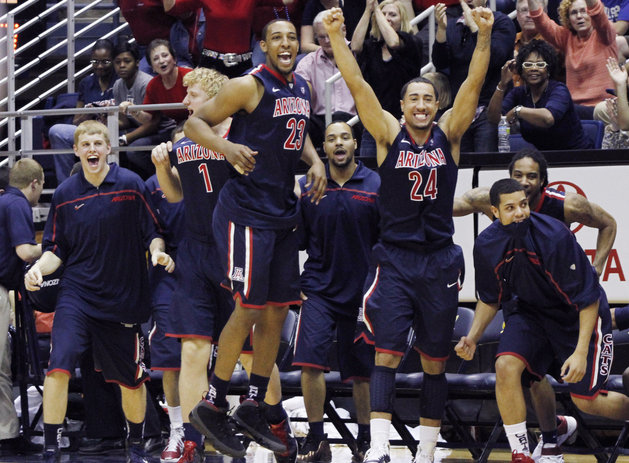 Posted by Matt Norlander
The Pac-10
is regressing to its form from 2010.
Or maybe it never progressed this year to begin with.
But what is different, yet familiar — Arizona is the king of the league. The Wildcats had their 25-year-long streak of making The Tournament snapped last season, but it's looking like the 'Cats will be dancing once again, perhaps starting a new streak this year.
Saturday night,
Arizona won one of the best games
you'll (not) see (thanks, terrible Pac-10 TV contract) all season by defeating California on the road, 107-105, in triple overtime. Making the win more impressive, even if Cal's mediocre, was the fact Derrick Williams fouled out and his teammates still managed to eke out a tough road W.
So the Wildcats are now 9-2 in the conference, a full two games ahead of suddenly second-place Washington. (UCLA, which played non-conference foe St. John's Saturday morning, is one game back in the loss column.) And you know, 'Zona's 20-4 overall and about two more road wins from becoming a lock to earning an NCAA bid.
Though the West Coast is void of a lot of embraceable basketall, Arizona goes against that notion. Sean Miller's got the team one year ahead of schedule, and this is a very, very fun group to watch. I won't fall for any team in this league, but I do think it's going to take a drastic change of behavior for Arizona to fall out of the top two by March 1.
Let's now get to Washington,
which our overlord addressed
a few hours earlier. The Huskies hucked up 54 3-pointers in two games in the Beaver State, losing
both in a three-game span
and dropping a third straight contest. The unraveling of the
Huskies in Eugene Saturday
signals a power shift atop the Pac-10 that UW may not be able to wrangle back. Another Arizona tidbit to support my thesis: the Wildcats have the deadliest player in the conference in Williams, who's a sure-fire lottery pick that is also strangely, unanswerably a terrific 3-point shooter.
Washington's non-con isn't quite as good is you (and I) might think, but this isn't time for bubble talk. I merely come to say, I don't know if Isaiah Thomas can fully carry the load for this team, and that's part of the fall. Abdul Gaddy was too proficient to not see some — here comes that aforementioned word — regression at some point.
So even though the Pac-10 remains a bit of a jumbled, unpredictable bag of meh, at least it's got itself a race and a reason to watch the games.
If you can manage to find the channel they're on.

Photo: AP