Posted by Eric Angevine

Hot Seat
Today, I'm going to single out two coaches from each of the Power Six conferences who are likely on their way out after the season. Before I do that, I want to congratulate the nation's Athletic Directors for not firing anybody mid-season this year. After watching programs like DePaul and UNC-Wilmington struggle to find new leaders after firing coaches in January, perhaps the notion that it's better to finish the season before handling your business is taking root again.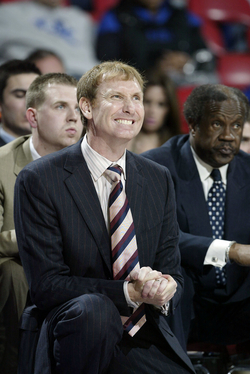 Now, on to our Power Six Pink Slip Pairings:
ACC: NC State's Sidney Lowe (2-7 in conference) and Georgia Tech's Paul Hewitt (3-6)
Big Ten: Michigan's John Beilein (4-7) and Penn State's Ed DeChellis (5-6)
Big 12: Texas Tech's Pat Knight (3-6) and Nebraska's Doc Sadler (3-5)
Big East: Providence's Keno Davis (3-8) and South Florida's Stan Heath (2-9)
Pac-10: Oregon State's Craig Robinson (4-7) and Arizona State's Herb Sendek (1-10)
SEC: Arkansas' John Pelphrey (right, 4-5) and LSU's Trent Johnson (2-6)
Not all of these men will be fired, but you can bet each has a sizable contingent of fans who would pay good money for a firecoachx.com domain name right about now. A couple of honorable mentions go to Oklahoma's Jeff Capel and Miami's Frank Haith. Both coaches have let promising programs slide, but each is overshadowed by more deserving colleagues in his own conference.

To my mind, the least likely pair to fall is the Beilein/DeChellis double bill in the Big Ten. Their relatively strong records show just how tough the league is from top to bottom. The most likely is the Lowe/Hewitt duo in the ACC – both coaches have had ample time and talent to build winning programs and haven't come through.

Quotable Coaches
"My parents station wagon in 1982 had a better sound system than what they're using at the Superbowl. What's going on???"

-Xavier's Chris Mack (@CoachChrisMack) joins the Twitter takedown of SB halftime show
"No idea."

-Roy Williams gives rare insight into his thoughts on how to prepare UNC for Wednesday's visit to Duke
"We still feel he's not going to play and we have to go forward with that. Just because you're out of a cast, you have to be 100 percent before you come back, and he's a ways from that. It's progressing well for his career. It's being done the right way and he's got to be honest with us about how he's doing."

-Mike Krzyzewski tempers expectations for Kyrie Irving's toe sans cast
"The court's the same length, the basket's the same height, and they put the same amount of air in the ball. I don't give any lip service to changing how we do things because we're playing on the road. We do what we do and it's either good enough or it's not."

-Auburn coach Tony Barbee channels 'Hoosiers' after a road loss at Georgia
"Sorry Vol Nation I tried my best. I'm so disappointed right now. The future is bright. Te Amo Mucho. Si."

-UT temp head coach Tony Jones (@TjonesLive) apologizes as his fill-in stint for Bruce Pearl ends in a loss
"We've played three times on (national TV) and stunk."

-Cleveland State head coach Gary Waters following a 73-61 setback to floundering league foe Butler
"If Ohio State needs motivation... All they need is to watch ESPN's montage..of Talking heads saying..They will lose to Wisconsin... tonight."

-Ohio State assistant Jeff Boals (@JeffBoals) plays the 'no respect' card on an undefeated team via Twitter

Speaking of Wisconsin, here's OSU's next – and possibly most dangerous – opponent, Bo Ryan, talking about his team's on-court destruction of Michigan State: