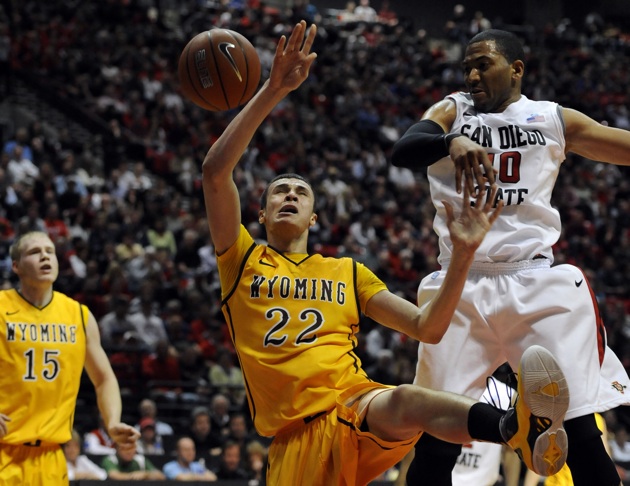 Posted by Matt Norlander
We have our first in-season coaching casualty of 2011. Earlier today, according to
SPORTSbyBROOKS,
Wyoming Cowboys head coach Heath Schroyer notified to his team he was done coaching them.
A few hours after Brooks' report, the
AP confirmed his story.
Wyoming athletic director Tom Burman
sent out a release
late Monday afternoon in which he said, "I regret having to make this decision to terminate Heath's contract at this time, but I feel it is in the best interest of our program. We are grateful for the time Heath has been our coach."
With an 8-15 record overall and a 1-8 mark in the
Mountain West this season,
Wyoming wasn't even as good as its ledger might indicate, as two of the eight wins came against opponents who weren't Division-I caliber and the team was 0-9 away from home. One of the team's wins came against Centenary, which is 0-25, the only winless team remaining in D-I.
The Cowboys
haven't won since Jan. 8, a 67-66 win against New Mexico.
Here's Brooks' lede:
I've learned today that Heath Schroyer has been fired as head basketball coach at the University of Wyoming. The coach, who told his players of his ouster this afternoon in a team meeting, will be replaced for the balance of the season by associate head coach Fred Langley . Schroyer had three years on his contract remaining at a Mountain West-low $160,000 per season - all of which will be bought out by the school's boosters.
Schroyer did have a winning season two years ago (19-14), but his overall record with the club ends at 49-68 since taking over.
As noted in the linked story, Schroyer's primary goal was to turn around a program that had a lot of academic and behavioral problems at the fundamental level. While it seems that was a success, everything else wasn't, so Schroyer's going to be seeking a new gig once the season ends.

Photo: AP